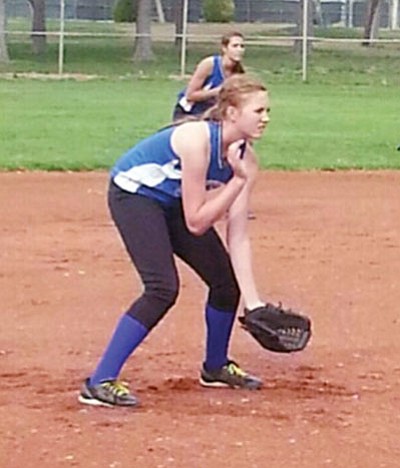 Originally Published: July 8, 2014 6 a.m.
KINGMAN - Kingman Academy High School needed an influx of athleticism after graduating a very talented class of 2014, and Aspen Jackson and Logan Day are just two incoming freshmen who can fill some of those gaps.
Jackson played volleyball, basketball and softball at Kingman Academy Middle School, and the former Coyote brings a bucketload of talent to the Lady Tigers.
"Physically, Aspen is a very gifted athlete," said KAMS girls basketball coach Jason Judd. "She has an athletic height and build. She has a bright future as a multi-sport athlete."
The busy schedule that playing three sports makes keeps Jackson from falling into the temptation of being a couch potato.
"I just like being active," she answered to why she loves sports. "I can't just sit still and be on the couch or my phone all day. I have to be doing something."
Between her middle school coaches and her high school volleyball coach, Bryant Morrison, there is a missing component to Jackson as a player. If she can come to grips with that, they believe the sky is the limit for her.
"Aspen's potential is really high," Morrison said. "She needs to work on her aggression. She finds that, and with her height, she can be one of the best players the Academy has ever had."
According to Jackson's volleyball and softball coach at KAMS, Annette McCord, Jackson has soft, kind heart that can prove detrimental on the playing surfaces.
"Aspen can be a little worried about her competitor's feelings," McCord said. "When Aspen becomes confident, she'll be an unstoppable force."
Judd, McCord and, especially, Morrison each hope and look forward to Jackson understanding and finding that killer instinct that would propel her career.
"When she finds the confidence in herself and realizes how dominant she can be, she will become a complete athlete," Judd said.
Coachable Day a perfect fit for Tigers
The drive to succeed may be the hardest aspect of sports to teach. Because Logan Day already possesses that determination and energy, he's ahead of most athletes his age.
"Logan is usually one of the hardest workers on his team," said KAMS football and boys basketball coach Michael Perrine. "Logan never has an off-season. He is one of the most active people I know."
Day played four sports for the Coyotes in middle school: cross country, football, basketball and track. When he wasn't involved in those sports in school, he was busy with karate, Boy Scouts, travel basketball and travel soccer.
"I just like being involved," Day said. "I have played sports since I was young. I was raised playing them."
Day has a lot to choose from, but basketball is where his passion lies. Perrine believes that with Day's academic ability (4.0 grade point average), his accountability (hasn't missed a day of school since preschool), and his work ethic, colleges are going to notice the new Tiger.
"Logan has all the makings of a very bright and successful future," Perrine said.
Morrison has started to work with Day on his high school basketball career and is completely impressed with what he's seen so far.
"He's really coachable and has good fundamentals," Morrison said. "He doesn't talk back, does what is asked of him and already has the athletic ability."
Day shared his favorite sports moment up to this point in his life. When he was in seventh grade, he made the eighth-grade team and hit a buzzer-beater against White Cliffs that sent that game into overtime.
It's logical to believe that someday he'll be doing that for the Tigers.
More like this story