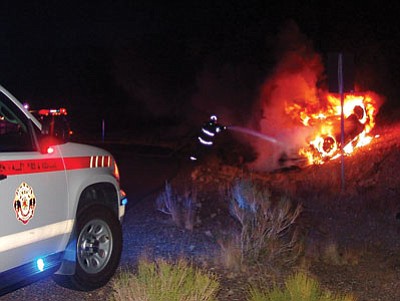 Originally Published: July 14, 2014 6 a.m.
KINGMAN - Four Kingman teenagers survived a fiery rollover crash Friday night in Golden Valley.
Firefighters were prepared for the worst when they responded to where eastbound Highway 68 meets northbound U.S. 93 at about 11 p.m. They discovered a late-model Pontiac on its roof and fully engulfed in flames.
Golden Valley Fire Chief Tom O'Donohue was the first to arrive on scene. He said he was "extremely relieved" to find the car's four occupants alive and about 150 feet from the car.
They were able to climb from the car and move away before it burst into flames.
O'Donohue said each of the occupants sustained relatively minor injuries and one was taken to Kingman Regional Medical Center.
O'Donohue said the driver was reportedly going too fast for the turn and the car went into a sideways slide before striking the ditch and rolling. It caught on fire moments later.
"This happy outcome is not typical of these types of accidents," said O'Donohue.
The driver and passengers are all related and under the age of 18.
Click for home delivery with comics, grocery deals, inserts, TV listings, coupons and more