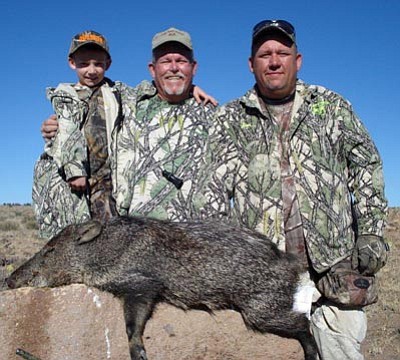 Originally Published: July 15, 2014 5:59 a.m.
KINGMAN - Here's a question: When should parents introduce their children to hunting and shooting sports?
There is no one answer that will apply to all kids, as kids mature mentally and physically at different ages.
Some children are ready to take on the challenges and responsibilities of being a hunter around 9 or 10. The Arizona Game and Fish Department doesn't allow children under 10 to hunt big game, but children 9 and under can and often do hunt small game with their parents/guardians.
So when a parent/guardian decides that their child is ready to take on the responsibilities of shooting a firearm or bow, and pursuing animals, what should they do?
• Start by taking them with you into the field and to the range.
• Show them the proper way to sight in a firearm and the importance of being able to hit your target. It is all about being responsible and being safe.
• Take them hunting with you. Let them see how you hunt safely, ethically and responsibly.
• Teach them at home about the respect needed when handling firearms. Parents are great teachers and are looked up to by their children. Always handle firearms safely and responsibly around your children and they will mimic what they see.
Start kids off by shooting BB guns or pellet guns under controlled circumstances. BB guns and pellet guns are not toys. They are great training tools for parents/guardians to use to teach the basics of shooting and firearm safety.
Plus, there is no recoil or loud noise to distract the young shooters.
Children should never be allowed to use these tools without supervision. Improper use of BB and pellet rifles can result in serious or fatal injuries.
Next, make sure that your son/daughter takes an approved Hunter Education class.
The Arizona Game and Fish Department offers Hunter Education classes throughout the year in Mohave County.
There is a two-weekend class starting on July 26 and ending on Aug. 3. To sign up, call Chief Instructor Jim Rich at (928) 444-3397.
The class is required for hunters under 14 years old who have big game tags, but it's recommended for everyone, especially those under 16 years old.
Consider taking the class with your children. Parents/guardians who take this class with their kids will see that their kids do much better than those who are alone.
The class strengthens the bond between the parents and children and is very worthwhile.
The class costs $8.
There are other groups that kids can join in the Kingman area to learn about firearm safety and responsibility.
The local 4-H group works with kids. Dale Lent is their leader and can be reached at (928) 715-8127.
Other groups, such as the Scholastic Clay Target Program, teach kids how to shoot shotguns by shooting clay targets in trap, skeet and sporting clays. There are two groups in the Kingman area. The Top Guns group is headed up by Kerry Schanaman, (928) 279-9375. Steve Bell, (928) 234-6502, is in charge of the Mohave Bighorns, another shotgun shooting group for kids.
Parents who want their youngsters to learn about bow hunting can contact Taco Esquibel at (928) 716-0505. Esquibel is in charge of the Mohave Sportsman Club's archery range and is a good source of information.
There are many groups and organizations out there to help parents/guardians who want to have their children participate in shooting sports or hunting.
Hunting/shooting sports are among the safest activities for youngsters. It is you, the parent/guardian, who must take the time and make the effort to ensure your children have the proper background for a lifetime of fun and excitement in the shooting sports.