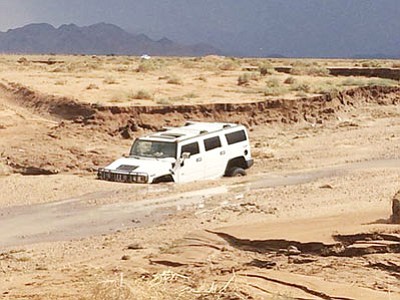 Originally Published: July 17, 2014 6:02 a.m.
KINGMAN - The driver of this Hummer H2 and his nephew escaped injury during Monday night's storm after he tried to cross Mohave Wash near Grace Neal Parkway and Mohave Airport Drive.
Fast-moving water pushed the vehicle about 400 yards before it tipped over on its side.
The Mohave County Sheriff's Office Search and Rescue offers the following advice when driving in heavy rain in flash flood country:
• Never attempt to cross running washes. It's recommended to pull your vehicle to the side of the road and wait. Being impatient can put you into a dangerous situation.
• Drive slowly and with caution during heavy rains.
• Whenever possible, stay off the road during heavy storms.
• Help Search and Rescue. Members often come upon unoccupied or stranded vehicles following a storm. If you must leave your vehicle, call the Mohave County Sheriff's Office at (928) 753-0753 and provide them with your vehicle's location, description and license plate number.