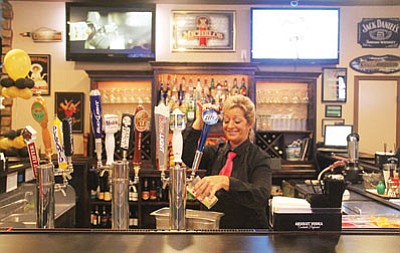 Originally Published: July 17, 2014 6:02 a.m.
KINGMAN - Becky Collins carried her leftover Jack Daniel's hamburger out of Kingman Chophouse restaurant recently with every intention of reheating it for another meal at home.
The Kingman native was not the least bit concerned that the new restaurant opened in May at the former location of Sushi Buffet on Kino Avenue, a restaurant that was plagued with health code violations and was shut down several times over the past few years under different names.
Collins said she was comfortable eating there.
"They remodeled it and it's beautiful," she said. "Just what they did and the new ownership ... because it had to take a lot to take care of those bugs."
And by taking care of those bugs, she means wiping out a colony of cockroaches.
The environmental division of Mohave County Health Department closed Sushi Buffet, previously known as Super Buffet and Palace Buffet, twice in 2013 and once in 2012 for violations that included roach infestation, rodent droppings and improper food storage.
One customer had complained to the health department about seeing a mousetrap in the dining area.
It's not easy for restaurants to clean up an unsanitary reputation, said Rachel Patterson, environmental health manager for Mohave County Health Department. The best remedy is to bring facilities up to code and keep them there.
"For me, I think it's maintaining consistency," Patterson said. "If they can meet our requirements and reopen, that means they're in a good place. A lot of times we have establishments written up and they correct it and then they're right back at it.
"I think it's important for the public to see consistency, not 'Needs Improvement,' then 'Satisfactory' and then back to 'Needs Improvement.'"
Chophouse owner Jesse Godinez said he went through similar issues with Kingman Steakhouse, a restaurant he operated for eight years in a 50-year-old building on Stockton Hill Road.
"It's not the building. It's just bad management, bad ownership," the longtime Mohave County restaurateur said. "You have to get a reliable pest service. We've got Ecolab. They're the best in the business. We started servicing the building and surrounding area months in advance."
Godinez said he and building owner Josh Ott invested $75,000 to $80,000 in remodeling the 4,000-square-foot, 140-seat capacity restaurant, putting in a wood-burning fireplace, new furniture, fresh paint and a bar area with eight flat-screen TVs.
The Chophouse received an Excellent rating from the health department at a July 1 inspection.
"You've got to ensure guests," Godinez said. "People know our reputation for quality. We have the Mohave Steakhouse in Bullhead City. I've been in the area for 10 years. Locals here know who we are and what we're about."
B's Monkey Butt Bar and Grill at 4400 Stockton Hill Road landed on the health department's watch list in early June after being slammed with a litany of violations.
Ant poison was found among liquor bottles behind the bar. Supposedly clean glasses had lipstick and fingerprints on them. The cook didn't have a food handler's card. Food was left uncovered and undated in the refrigerator and freezer.
Pigeons were nesting in the evaporative cooler on the roof, which was blowing feathers and feces into the food preparation area.
Patterson said health inspectors returned on June 16 and were happy with the progress made at Monkey Butt.
The owners had corrected everything and made significant improvement, she said.
Monkey Butt's owners were out of town and unavailable for comment, an employee told the Kingman Daily Miner.
It's difficult for Patterson to keep track of all the restaurants opening and closing in Mohave County. They're inspected about every six months, though frequency of inspections can increase with repeat violations.
Closure comes with imminent health hazards such as a rodent or roach infestation, lack of hot water or sewage problems, Patterson said.
"We sometimes put them on a risk control plan to see if we can correct the problem for the long term," she said. "Sometimes it works, sometimes it doesn't.
"Everyone gets a fresh start, a clean slate when they open. We just need to keep them there."