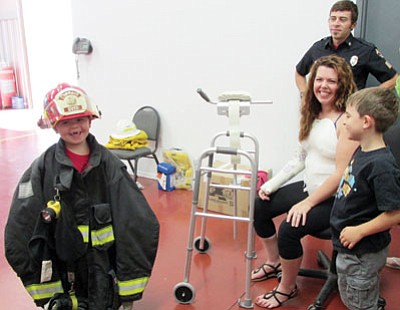 Originally Published: July 20, 2014 6 a.m.
GOLDEN VALLEY - When a hard rain started to fall the afternoon of July 6, Ashley Kanavy's first thought was to pull her vehicle over on Highway 68 to keep herself and a passenger safe.
Little did Kanavy, 31, know that her decision would dramatically change their lives. As the rain let up, Kanavy, who was driving a GMC SUV from Golden Valley to Las Vegas, and the other vehicles that had stopped nearby began returning to the road. Kanavy's front-seat passenger was her grandmother, Mary Ann McCloskey, 80, a resident of the valley.
Within minutes, the driver of a Chrysler PT Cruiser, Travis Harryman, 22, of Kingman, lost control of his car as he headed west on Highway 68, crossing the center line and striking Kanavy's vehicle head-on. Kanavy was seriously injured, and her beloved grandmother died shortly after being transported to Kingman Regional Medical Center.
Kanavy, who grew up here, graduated from Kingman High School and now lives in Rancho Cucamonga, Calif., had been visiting her mother in Golden Valley. Kanavy and her grandmother, a clerk for 13 years at the Mohave County Public Library, were on their way to visit Kanavy's aunt, Kathy Haas, also of Golden Valley, at Sunrise Medical Center in Las Vegas. Haas has been diagnosed with a cancerous brain tumor and was to undergo a biopsy that day.
The memory of the horrific crash remains vivid more than a month later. Kanavy can still see the other car suddenly turning toward them and hear their screams and the crunch of metal as both vehicles made contact. Smoke filled the SUV after it came to a stop in the roadway, and Kanavy remembers thinking she needed to exit the vehicle and help her grandmother, whom Kanavy could see was in obvious pain.
"She was groaning," said Kanavy. "We were talking the whole time and holding hands. I was trying to hold her broken right arm with my injured hand, and I asked her if she was OK and she tapped her chest because she was having trouble breathing. I told her I was so sorry and she said it was not my fault and not to worry. She was trying to be strong for me like I was trying to be strong for her."
After emergency responders took her grandmother away, Kanavy had to be pried out of the crushed vehicle. That's when she met Golden Valley Fire Department Capt. Rob Arnold, who first held her hand during the ordeal and then told her to grab his arm as hard as she could while they removed her because it would be painful. Arnold accompanied her as she was placed in the ambulance.
In appreciation for the care given to Kanavy and McCloskey, Kanavy and her family, including her two young sons, Mikey Kanavy, 7, and Jacob McMurray, 4, visited the Golden Valley Fire Department on Friday to meet the employees who assisted with the accident. They are Arnold, Cody Wood, Jimmy Childers, David Guerrero, Chris Hinds, Luke Weber and Robert Cole.
"I wanted to say thank you to them because they did everything they could for me and my grandma," said Kanavy, who has two fractures in her lumbar spine, a broken sacrum and a right hand that is fractured and broken. "I remember Rob holding my hand and then telling me to hold onto his arm when they pulled me out, and it gave me such comfort. We bonded so much that I wanted him to ride in the ambulance with me, but he couldn't. Their help means a lot to us."
The head-on collision was significant, said Arnold, and involved multiple injuries and transports to area hospitals. Arnold said he is proud of his team, which acted quickly and cohesively to save the lives of as many as possible at the scene. Arnold said this is only the third time someone has returned to thank him in his 12 years as a career firefighter.
"I think everyone who does this job is here for the patients we assist," said Arnold. "They're the reason we do this kind of work. It's rewarding for us to be able to make a big difference in someone's life, and it's really nice to be thanked. I'll remember this for the rest of my life, and I'm sure she will, too. I'm glad to see that she is doing so well after such a traumatic incident."
Click for home delivery with comics, grocery deals, inserts, TV listings, coupons and more