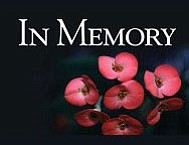 Originally Published: July 20, 2014 6 a.m.
Arthur W. Colligan, 79, passed away in Kingman on July 16, 2014, after a brief illness. He was born in San Diego on June 26, 1935.
Arthur was a 22-year resident of Kingman. Arthur was a Vietnam War hero and retired after 22 years of service in the United States Air Force.
Arthur was a beloved husband and father. He is survived by his wife of 59 years, Barbara; his daughter, Donna; his three sons, Michael, Timothy and Ronald; his daughter-in-law, Danielle; and his three grandchildren, Brian, Jillian and Allison.
A memorial service will be held at the home of Arthur and Barbara Colligan, 3775 N. San Pedro Road, Golden Valley, at 11 a.m. Aug. 3, 2014. Please RSVP to Donna at (928) 377-9516.