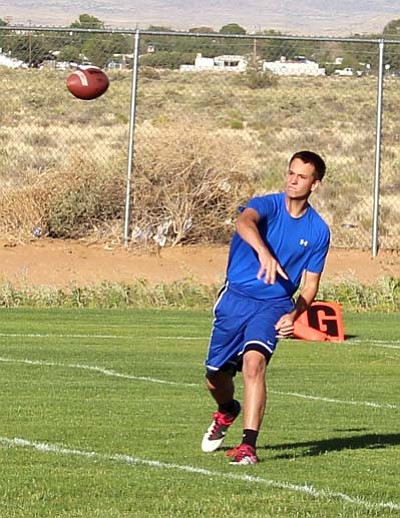 Originally Published: July 22, 2014 6 a.m.
KINGMAN - After graduating from Kingman Academy of Learning Middle School, Jessica Plew is about to bring her competitive spirit to the girls basketball and softball programs at Kingman Academy High School. Kannon Butler, meanwhile, looks to the be a player the Tiger football, basketball and baseball coaches dream about.
Plew puts on the uniform so she can be a part of something bigger.
"Sports lets me be part of a family, playing with teammates and learning how to communicate to be part of something better," she said.
Her coaches at KAMS, Annette McCord during softball and Jason Judd for basketball, both enjoyed the competitiveness from an athlete who is just entering her freshman year of high school.
"Jessica is extremely competitive," McCord said. "She dedicates 100 percent to her sport."
While Judd noted Plew's intensity, he also saw a well-balanced teammate.
"She's very serious and focused during competition," he said. "But Jessica keeps her teammates relaxed with her sense of humor and lighter side."
Plew said she had a great time winning the championship game at the end of the year tournament on the basketball court and always has one when she's on the softball field. With those experiences behind her, she's looking forward to her high school career.
"It's going to be a lot of fun but with more expectations and higher standards," Plew said. "I like challenges that make me want to do the best for my team."
That understanding about teamwork can take some athletes all four years of high school to grasp.
"Jessica is a very confident and intelligent player," Judd said. "She outsmarts her opponents with a high sports IQ."
Butler: A starting freshman QB?
The Kingman Academy High football team is in need of a quarterback, and incoming freshman Kannon Butler has found himself in the middle of the race. KAHS coach Dan Stroup is very impressed with the young man.
"Kannon has tremendous potential," Stroup said. "He's done well with what we've asked him and is doing his homework, quarterback-wise. He's gaining the confidence to take what the defense gives him."
Butler knows how to throw touchdown passes, and one in particular is his favorite sports moment.
"It was when I threw my first touchdown. It was to Jack Kirby against Kingman Middle School," he said. "I was so excited. I remember just jumping and screaming because we scored."
Butler plans on playing football, basketball and baseball for the Tigers. All three of those coaches are getting a gem, according to KAMS coach Michael Perrine.
"Kannon is rapidly growing into the type of player that all coaches seek," Perrine said. "He works hard, is competitive and has the ability to see all realms of the team."
Perrine said that Butler is a true student of all the sports he participates in. He said Butler wants to know all the ins and outs of all positions, what skills are needed to execute in various situations and gets the fire burning while being able to channel those emotions.
It's most likely for those reasons, Stroup sees Butler on the field whether he is the next Tiger quarterback or not.
"He's the type of player who, if he doesn't start at quarterback, he'll start elsewhere," Butler's new football coach said. "He can play defense. I'm looking forward to the next four years working with him. He's got a real good shot at being our guy."