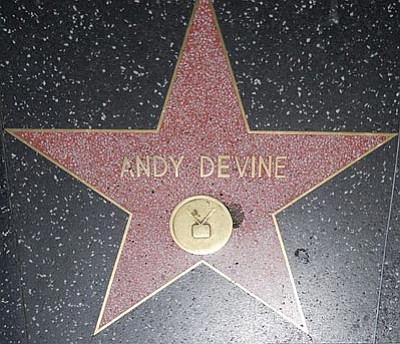 Originally Published: July 23, 2014 6:02 a.m.
KINGMAN - The names of the nominees for this year's Andy Devine Awards are in, and the winners will be chosen this weekend for the annual awards.
"It's important for us to acknowledge and celebrate those who give tirelessly of themselves to the community," said Dora Manley, director of the awards program for the Kingman Area Chamber of Commerce. "They are the ones who help support Kingman, and that's what the Andys are about."
The Andy Devine Awards are given out each year by the chamber to draw attention to the people, businesses and organizations that make Kingman a better place to live.
Since 1978, the awards have honored individuals, organizations and businesses that have made a significant contribution toward the betterment of the community.
The Andy Devine Awards ceremony will take place at 6 p.m. Saturday at Beale Celebrations, 201 N. Fourth St.
Tickets are $25 and can be ordered by calling the Kingman Area Chamber of Commerce at (928) 753-6253.
More like this story