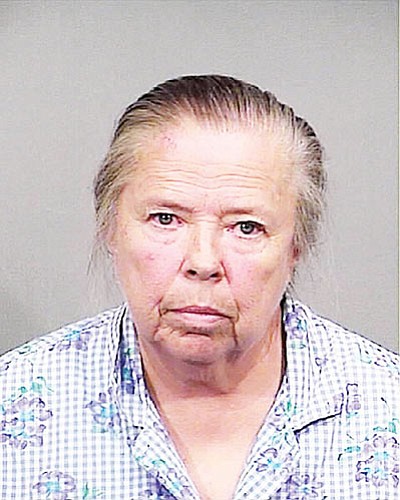 Originally Published: July 25, 2014 6 a.m.
KINGMAN - Sharon Kay Holmes didn't drive like a woman possessed two years ago.
She drove like a woman who had been repossessed.
Holmes was armed, and the Kingman Police officers at the scene felt like they were targets.
On Wednesday, Judge Rick Williams put the brakes on Holmes when he sentenced the former Republican delegate to the state convention to three years of probation.
Holmes avoided jail in light of her age, 70, ongoing health issues and the lack of a criminal history.
Holmes certainly picked a dramatic way to get a history.
On June 26, 2012, a man attempted to repossess her Jeep when, by her own admission in an email sent to the Miner shortly after the incident, she armed herself and drove the vehicle off of the man's tow truck before leading police on a one-mile car chase.
Prior to taking the Jeep, she pointed the handgun at the repo man and threatened to shoot him. Holmes told the Miner she had made a recent payment on the Jeep, but neither the repo agent nor police would listen to her.
At that point, she told the Miner that she removed the portable tow lights off her Jeep, but cables still kept the vehicle attached to the tow truck.
"When the police refused to listen to me, I dropped the Jeep into 4WD low and hit the gas with the power of that Hemi engine, and broke loose from the unmarked tow truck, went around two police cars just arriving on scene, and took off into the county with them in pursuit."
Police and the repo man had a different take. Holmes refused to exit her car when police arrived and, once free of the tow truck, she drove on the sidewalk to elude officers, who had to evade her vehicle.
The chase lasted until the Jeep became disabled on Beale Street.
Shortly after the incident, Holmes said, "The boys cannot stand the idea that an old lady outsmarted them all."
She also said she would file lawsuits against the car dealership from which she purchased the Jeep and the company that financed it, Kingman Police and the Mohave County jail for "damages and slander of both myself and the Republican party."
Holmes was one of about 20 delegates from Kingman who attended the Republican Convention in Phoenix earlier in 2012, and one of about 1,000 GOP delegates who attended from across the state.
She was allowed to enter an Alford plea in May, in which she didn't admit guilt for the crime, but she did admit the state could probably prove its case at trial.
Such pleas are punished the same as a guilty plea.
She pleaded to a single count of attempted unlawful flight from law enforcement. Her original charges were aggravated assault and criminal damage.
Holmes' felony conviction will be reduced to a misdemeanor if she successfully completes her term of probation.