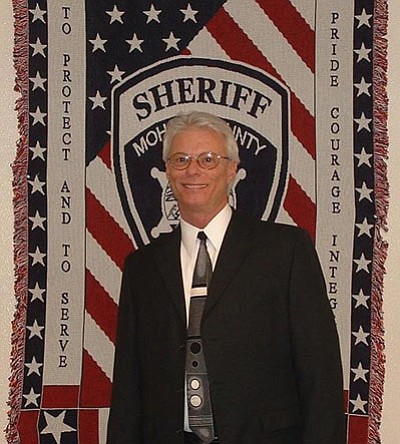 Originally Published: July 28, 2014 3:04 p.m.
KINGMAN - Saying he's both humbled and honored, Jim McCabe accepted the appointment Monday to serve as Mohave County Sheriff until the end of 2016.
"I guarantee I'll go forward in a manner to make you and Mohave County proud," McCabe told the Mohave County Board of Supervisors after being appointed sheriff by a 4-1 vote.
Supervisors spent two hours in closed executive session interviewing six finalists to replace Sheriff Tom Sheahan, who is retiring July 31 after more than 17 years on the job.
Steven Moss made the motion to appoint McCabe and Hildy Angius seconded the motion. Jean Bishop cast the dissenting vote, though she did not elaborate as to why.
McCabe has 28 years of law enforcement experience, including the last 18 as chief deputy of Mohave County Sheriff's Office in which he oversaw 20 divisions with a budget of more than $24 million.
As a lieutenant, he worked with the community to establish Neighborhood Watch and Business Watch programs, and shock incarceration for first-time youth offenders.
Sheahan recommended him for the job. The only public speaker at Monday's meeting also supported McCabe.