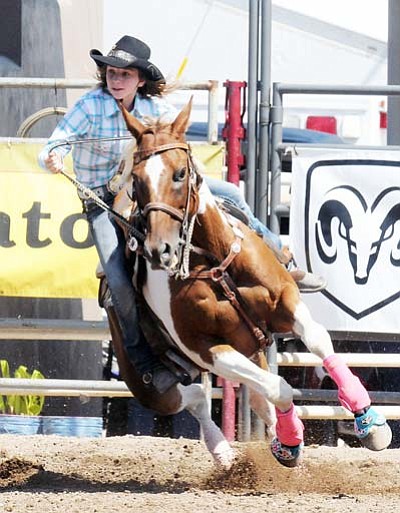 Originally Published: July 29, 2014 6 a.m.
KINGMAN - One of the reasons sports can be so special are the many different personalities found with athletes. Incoming freshmen Mia Santos from Kingman Middle School and Breezy Weber from Kingman Academy of Learning Middle School both fit that mold.
Santos said she planned on attending Lee Williams High School. She's looking forward to playing volleyball, basketball and softball for the Lady Vols.
She's a typical teenager with typical teenage angst, but Santos has a deep understanding of what sports can do for her therapeutically.
"I first started doing sports because it kept the stress of things that bugged me off of me. It was a relief to exercise," she said. "The more I learned about sports, the more sports grew on me. I've met a lot of people, and that's become fun. There is always more to do in a sport, so I'm never bored with it."
Santos is a good athlete and played shortstop for KMS.
That was where she experienced her favorite moment in sports when the Bobcats were playing Bullhead City Fox Creek.
"There was a ball hit up the middle with a runner on first," Santos said. "I got the ball and turned a 6-3 double play."
Russ Skubal, who coached Santos at KMS, thinks Santos' being in a uniform will delight her future coaches.
"She's a glue girl," Skubal said. "What I mean by that is she holds the team together. She'll do whatever it takes for the team to be successful. She does the little things that a coach loves."
Rodeo girl
goes to KAHS
Make no mistake about it, Breezy Weber loves to play traditional sports such as volleyball and basketball. Her true passion, however, is rodeo and barrel racing.
"That's my main sport," Weber said. "It's fast - really fast - fun, makes you work hard and keeps you humble. You're rarely ever perfect, and it's never easy."
Weber raced at the National Little Britches Rodeo Association 2014 Finals last weekend at the Colorado State Fairgrounds in Pueblo. She said she had to practice nearly every day to get ready for the event, and that exemplifies the kind of athlete she's become at this stage of her life.
"(Breezy) is extremely competitive because she dedicates 100 percent to her sport," said KAMS coach Annette McCord. "She's very coachable and is a great team player."
Though Kingman Academy High volleyball coach Bryant Morrison has had Weber just over the summer, he already recognizes the same value in her.
"I love that Breezy is a hard worker," Morrison said. "She listens and wants to get better. She's a well-rounded player who can do everything: pass, hit and set. She wants to be a setter, but she's willing to try anything. She's dedicated."