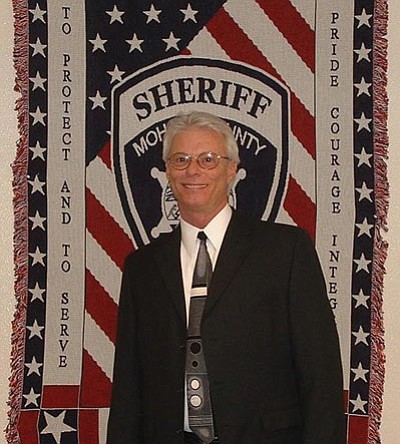 Originally Published: July 29, 2014 6 a.m.
KINGMAN - Saying he's both humbled and honored, Jim McCabe accepted the appointment Monday to serve as Mohave County Sheriff until the end of 2016.
"I guarantee I'll go forward in a manner to make you and Mohave County proud," McCabe told the Mohave County Board of Supervisors after being appointed sheriff by a 4-1 vote.
Supervisors spent two hours in closed executive session interviewing six finalists to replace Sheriff Tom Sheahan, who is retiring Thursday after more than 17 years on the job.
Steven Moss made the motion to appoint McCabe and Hildy Angius seconded the motion. Jean Bishop cast the dissenting vote, though she did not elaborate as to why.
McCabe has 28 years of law enforcement experience, including the last 18 as chief deputy of Mohave County Sheriff's Office in which he oversaw 20 divisions with a budget of more than $24 million.
As a lieutenant, he worked with the community to establish Neighborhood Watch and Business Watch programs, and shock incarceration for first-time youth offenders.
Sheahan recommended him for the job. The only public speaker at Monday's meeting also supported McCabe.
"To be the next sheriff is a great responsibility and a whole new adventure and something I look forward to," McCabe said.
The new Mohave County Sheriff will be sworn in Friday by Judge Charles Gurtler in Bullhead City.
The most difficult part of the interview was "bragging" about himself, or selling himself for the job, he said. The technical questions he could handle.
Angius said the process of appointing a new sheriff has been long and interesting and she thanked everyone involved, including all 13 applicants for the job.
"I'm so impressed by the level of professionalism in our law enforcement community," the board chairwoman said. "It says a lot about our county and how much respect we have."
Other sheriff finalists were Larry "Joe" Archie, lieutenant with Lake Havasu City Police Department; Wes Bauer, Mohave County Sheriff deputy; Michael Contreras, patrol officer with the Arizona Department of Public Safety; Ed Jones, process server, private investigator and former Los Angeles police officer; and Douglas Schuster, sergeant and boating officer for the sheriff's Waterways Division.