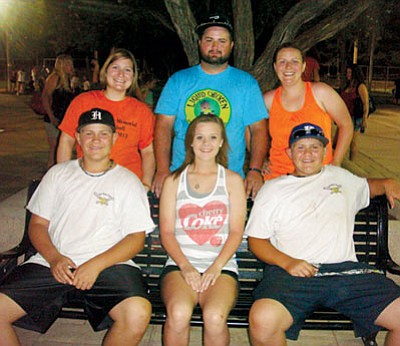 Originally Published: July 30, 2014 6 a.m.
I thought the one thing I hated most about sports writing is making a mistake. I run all the clichés through my head when I do - you're only human, nobody's perfect, you aren't trying if you don't make mistakes, etc. - but those don't help alleviate the anguish swimming in my gut when I realize I've made one when I review my work after the paper is printed.
The realization that this mental exercise is trivial and tedious was brought home to me last week. There are bigger mistakes I'm capable of making, which can make people distraught and unhappy.
I've made the typical ones in sports such as a wrong score, the incorrect amount of points tallied by individual players, and even misspelling a name. The last one hits especially close to home. I've read about Sean Burn and wondered, who is that?
I found out last week that when it comes to certain types of stories, a mistake could be brutal. Colossal mistakes I make have the potential to cause people to become so upset they get distressed and perturbed to the point of being hurt.
I did that last week in the story "Bathauer keeps giving via softball tourney" on Friday. When I wrote about John Bathauer's children, I neglected to mention Jessica (Bathauer) York, Joshua Bathauer and Jennifer (Bathauer) Stout.
The John Bathauer Memorial Scholarship Fund is designed to award college-bound students who have dealt with some sort of adversity in their lives additional dollars to help meet the costs of higher education. The concept for the Bathauers is to give back to the community because they received so much from Kingman in their time of need.
The students who apply for this scholarship must write an essay describing their difficult time and showing their resilience in overcoming that obstacle.
When spending a short amount of time - even mere minutes - contemplating the meaningfulness behind this, it's easy to understand your heart would go pitter-patter.
It's another piece of evidence that the human spirit is alive and the people behind it deserve praise.
Knowing all six of Bathauer's children have resiliently faced the loss of their father and award others for their abilities to do the same in similar circumstances brings to mind the word extraordinary.
I'll continue to hate the mistakes I make, but I promise to work more diligently to avoid them. I vow to do this because I'm going to learn from this mistake.
To Jessica, Joshua and Jennifer, I'm sorry. I was mistaken.
On the sports side of the John Bathauer Memorial Softball Tournament, congratulations to the three division winners - Re/Max, Northwest Security and Dream Team.