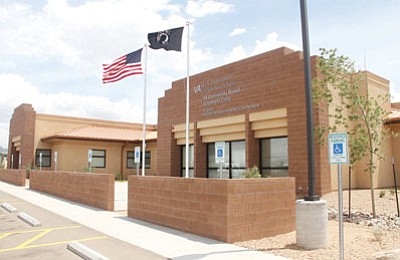 Originally Published: July 31, 2014 6:02 a.m.
KINGMAN - A new veterans clinic that recently opened is nearly double the size of the building that used to serve area veterans.
The Kingman Community Based Outpatient Clinic opened July 15 at the 14,400-square-feet facility. The clinic, which cost $2.5 million to build, features 70 rooms, including offices, conference rooms and a multipurpose room. The building also houses space for staff assigned to homeless-based primary care and the VA's homeless program.
"This long-awaited expansion of our Kingman clinic will help us serve more veterans using state-of-the-art technology by quality VA clinical and administrative staff," said Donna Jacobs, medical center director of the Northern Arizona VA Hearth Care System.
Prolonged lack of access to veteran medical care has been a well-documented problem in Phoenix and in other parts of the nation. The FBI recently opened a probe into allegations that VA employees, under the direction of their supervisors, manipulated waiting lists and delayed care for veterans so long that it may have resulted in their deaths.
The Kingman clinic, which replaces the 8,000-square-feet facility at 1726 Beverly Ave., will continue primary care, mental health and specialty clinic services. Those include health screening, labs, optometry, skin tests, dressing changes, pharmacy consultations and management of acute and chronic disease. New services are on-site physical therapy and a women's health clinic.
Six new employees will join the current staff at the clinic. Terry Bridges, who has worked at the Kingman clinic since 2008, will remain the nurse supervisor there. Bridges is a retired U.S. Army major and has worked for the VA for 15 years. She was raised in Kingman.
A new clinic was needed in Kingman because the number of veterans using it was growing and the VA wanted to expand services to them. Currently, about 3,500 veterans receive care there, and more are expected.