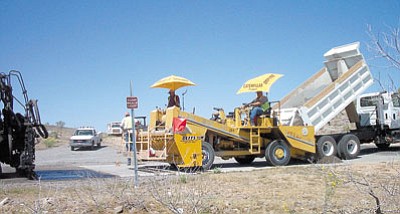 Originally Published: June 2, 2014 6 a.m.
KINGMAN - The city's Public Works Department will chip seal roads from June 9 through June 14, which will result in closures between 6 a.m. and 4 p.m.
Here's the schedule:
• June 9 - Hualapai Mountain Road from Andy Devine to Eastern avenues;
• June 10 - Andy Devine Avenue from Stockton Hill Road to 10th Street;
• June 11 - Andy Devine Avenue from 10th Street to Grandview Avenue;
• June 12 - Andy Devine Avenue from Fairground Boulevard to Andy Devine Avenue and Michael Street and from Airway and Andy Devine avenues to Evans street;
• June 13 - Airway Avenue from Stockton Hill Road to Evans Street;
• June 14 - Stockton Hill Road from Detroit Avenue toward Andy Devine Avenue.
Public Works advises the entire road will be sealed. Access to residences and businesses in the area is expected to remain open during the duration of the project, but delays could occur and the public is encouraged to use alternate routes.
Any questions should be forwarded to Kingman Public Works at (928) 692-3101.
Click for home delivery with comics, grocery deals, inserts, TV listings, coupons and more