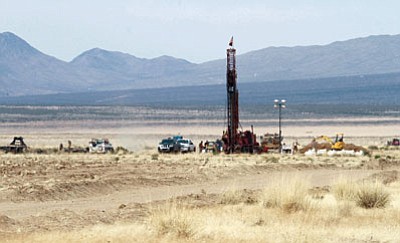 Originally Published: June 2, 2014 6 a.m.
KINGMAN - A possible exchange of land that would consolidate private and public property at Red Lake is in the works between developer Jim Rhodes and the Bureau of Land Management.
Rhodes, a former Las Vegas developer who returned to Mohave County last year to grow vegetables in Golden Valley, is hoping to acquire about 21,000 acres of public land administered by the BLM. Rhodes, whose company is called Kingman Farms, is planning to grow alfalfa and other crops on about 7,500 acres of the 33,000 acres he owns at the site located about 20 miles north of Kingman.
Ruben Sanchez, field manager for the BLM Kingman field office, said the land at Red Lake is arranged in "checkerboard" fashion, with blocks of Rhodes' land interspersed with BLM land. Exchanging some of those blocks would provide uniformity and make it easier on both parties, said Sanchez, noting the process could take up to two years and will include public hearings and citizen input.
"Exchanging the land would ease the workload on us because right now, that area is a challenge for us to manage," said Sanchez. "There would be benefits to both sides, with the biggest benefit getting all of us out of that checkerboard pattern. This exchange is a definite possibility, and we're going to inch our way into it with full public involvement. This won't be done in a vacuum."
The BLM Kingman Field Office oversees 2.4 million acres of public land in northwestern Arizona, and is located south and east of the Colorado River. The field office manages nine wilderness areas, 12 areas of critical environmental concern, and five river segments under consideration for wild and scenic river designations.
In a letter to Sanchez written by Rhodes, he said the BLM and public would benefit from the proposed land exchange because of increased access and management opportunities. He said some of the land along the western edge of the valley has significant conservation and recreational value, and acquiring it would facilitate public access to the Mount Tipton Wilderness Area.
Also, the letter states, the exchange would include the acquisition of land within the dry lake bed of Red Lake, as well as scenic lands within the Golden Valley/Fig Springs area. Rhodes also proposes to give up five sections of land within the Lake Mead National Recreation Area.
Rhodes bought nearly 80,000 acres of property in Mohave County during the housing boom in the early 2000s and hoped to develop five different large master planned communities near Temple Bar, White Hills, Golden Valley and two near the Kingman Airport. The developments would have added 119,300 new homes to the county.
But Rhodes changed his plans after battling with Mohave County, the Arizona Corporation Commission and local residents over groundwater use for his developments. He was sued in 2007 by a local businessman over a land deal, in 2009 by the Nevada Cancer Institute for not making good on a $10 million pledge and again in 2010 by the Federal Deposit Insurance Corp. for defaulting on a $2.6 million loan.
Despite being in the desert, Rhodes contends the Kingman and Golden Valley areas are ideal spots to farm because of how close they are to major highways and markets. Rhodes' grand plan is to farm about 40,000 to 50,000 acres in Mohave County using a sophisticated underground GPS drip irrigation system and sell the produce to national and local stores, restaurants and food services.
Click for home delivery with comics, grocery deals, inserts, TV listings, coupons and more