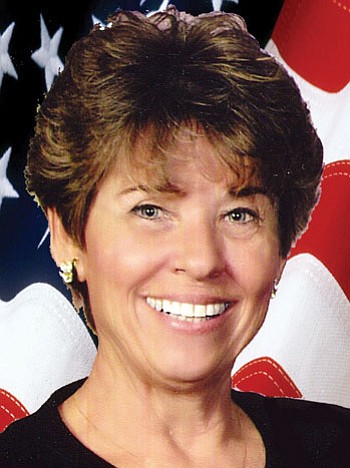 Originally Published: June 3, 2014 6 a.m.
KINGMAN - In a tiebreaker vote Monday decided by the interim clerk of the Mohave County Board of Supervisors, Cerbat Precinct Constable Jean Bishop was chosen to temporarily fill the board's empty District 4 seat until the general election in November.
Chairwoman Hildy Angius, District 2, and Steve Moss, District 5, voted in favor of Bishop, while Supervisors Gary Watson, District 1, and Buster Johnson, District 3, voted against her. The choice was made by Interim Clerk Ginny Anderson, whose office is allowed by state law to decide a tie vote.
"I believe we as supervisors are elected to office to make these kinds of hard decisions," said Angius after the vote. "I voted for the person I thought was best qualified for the office. I don't know some of these other people and can't in good conscience vote for them. And I trust in the voters of District 4 that they will do their homework when the time comes and vote for the person who will best represent them."
Bishop was one of six residents who submitted letters of interest to the board for the seat vacated by Supervisor Joy Brotherton, who died May 19 after fighting a serious blood infection. Her term expires in 2016. The other candidates were Bob Boyd, Curtis Cutshaw, Ted Roper, Pete Byers and State Rep. Doris Goodale, R-Kingman.
Cutshaw and Roper unsuccessfully ran for the office in 2011, and Byers is a former supervisor.
Goodale announced last month that she will not run again this fall for her state seat after her term expires in December and asked to be nominated, but state law forbids a seated legislator from holding another political position while in office.
"I voted against Jean because my intent was to put someone in office for six months who is not running for the election," said Watson. "My concern is that the person who is running this fall may encounter controversy or problems that could be detrimental to the election. I want to make sure we are completely impartial and that the person we choose could step in and do the job immediately."
Bishop, a Republican who took office in 2007 after being elected as constable, resigned her position Monday and must still sign her oath of office as supervisor. Bishop filed the required number of registered voter signatures last month to run for the supervisor position. The primary is scheduled for Aug. 26, and the Republican winner will face the Democrat challenger in the Nov. 4 general election.
Moss nominated Bishop after an executive session. Bishop was the only candidate considered in public by the Board.
Other Republican contenders who filed are Cutshaw, Boyd, Roper, Al DiCicco, Bill Keller, Jack Pozenel, Travis Lingenfelter and Theodore Brinkofski. The Democrat candidate is Jack Ehrhardt. The district includes west Kingman, Golden Valley, Oatman, Chloride, Dolan Springs, Meadview and White Hills.
Bishop, who has worked for the Kingman Police, Mohave County Sheriff's Office and Mohave County Parks, said she appreciated the vote of confidence in her for the position and will do her best to fill the big shoes left behind by Brotherton. Bishop also owned and operated Then & Now Gift Shop in Chloride.
"This is something that's in my heart and I want to do it for Joy and for the citizens of Mohave County," said Bishop. "I have no agenda. My plans, once I get sworn in, are just to continue with Joy's work, try to finish some of her projects and then go on with the election and let the District 4 citizens decide who the next supervisor will be in November."
Click for home delivery with comics, grocery deals, inserts, TV listings, coupons and more