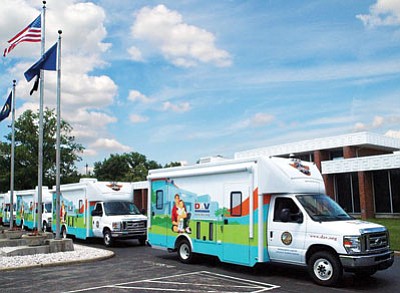 Originally Published: June 4, 2014 6 a.m.
KINGMAN - Mohave County veterans will get a chance to receive benefits assistance close to home when the Disabled American Veterans mobile service office hits town this month.
The office-on-wheels will set up shop at Mohave Community College's Neal Campus - Kingman for a day.
It travels to designated stops throughout Arizona, California, Nevada and Oregon twice a year.
MCC is one of only four scheduled stops in northern Arizona in June and the only one in Mohave County.
"This is an excellent opportunity for veterans who live in rural areas to access face-to-face services and support regarding all of the benefits they are entitled to," said Keith Sensing, MCC veteran services coordinator. "MCC is fortunate to be able to host the DAV for this special service activity."
The DAV, a nonprofit organization that works closely with the U.S. Department of Veterans Affairs, can assist veterans, retirees and their families with a variety of needs. The mobile office works to ensure veterans are receiving all the benefits they earned through their military service, including education.
MCC is approved by the VA to enroll eligible veterans, widows and dependents in college. The VA will only approve funding for veterans who are taking classes toward a certificate or an associate degree.
It offers seven different educational benefits to veterans, including the Post-9/11 GI Bill for veterans who received an honorable discharge after serving at least 90 days of active duty after Sept. 10, 2001.
Other veteran benefit programs, like the Montgomery GI Bill, cover education expenses for eligible veterans who served prior to Sept. 11, 2001.
MCC has agreements with 19 four-year colleges and universities nationwide to seamlessly transfer students' MCC credits to those institutions toward a bachelor's degree.
Click for home delivery with comics, grocery deals, inserts, TV listings, coupons and more