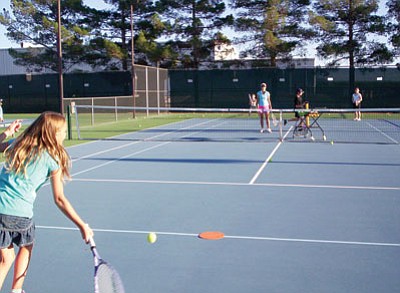 Originally Published: June 5, 2014 6 a.m.
Every week we have evening and morning walk-in tennis. We have evening walk-in tennis at 5 p.m. on Mondays and Wednesdays. Morning walk-in tennis is at 8 a.m. on Saturdays.
We meet at the tennis courts in Centennial Park. The cost is $2 for members and $3 for non-members. Please wear tennis shoes and bring a racquet. Our club provides the tennis balls and pays the court fees.
We will place you in a doubles match based on your skill level. Beginners are welcome and we will assign someone to help you get started.
For our special events, we will be having a court cleaning on Friday, June 6.
We are also offering a free Tennis Play Day for children ages 6-14 at 2 p.m., Saturday, June 21. Arrive a few minutes early to get signed up. We will be having more Tennis Play Day events on July 19, August 16, Sept. 13 and Oct. 11. For more information on these events, or if you are interested in joining the Kingman Tennis Club, please contact Brooke Fix at 753-5684. Come play tennis with us!