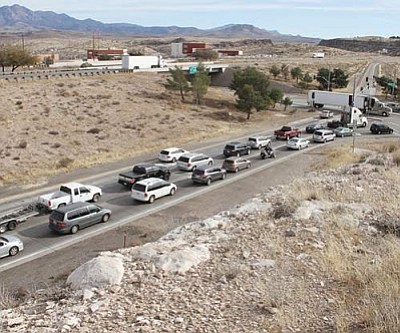 Originally Published: June 13, 2014 6 a.m.
KINGMAN - People interested in the proposed Interstate 11 that would link Phoenix to Las Vegas - and ultimately Mexico to Canada - can participate in one of three public hearings this month or in an online virtual meeting that will last from Wednesday through July 18.
The Arizona and Nevada departments of transportation began a feasibility study two years ago and it is nearing its completion, according to the Arizona Department of Transportation.
This will be the public's final chance to comment before the draft Corridor Concept Report is compiled. Designed to provide vision for the corridor, reinforce the justification for building a new multiuse interstate corridor and define a plan to move forward.
The report will outline four chapters. They are the need for a high-capacity corridor to link economies; alignment recommendations that link population centers and connect communities; the economic value that might come from investing in the project and a call to action.
The two state transportation departments stress the importance of continued collaboration.
The proposed interstate was included in the current federal surface transportation bill. Funding has not been identified.