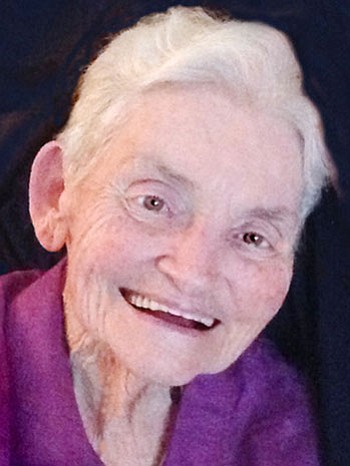 Originally Published: June 15, 2014 6 a.m.
Hazel Ehrsam
Kingman Pioneer Family
Hazel Mulligan Ehrsam, 91, recently of Corona, Calif., passed away last Friday, June 6, 2014, surrounded by her loving family. Granddaughter of pioneer stonemason John Mulligan, and daughter of architect John S. Mulligan, Hazel was fiercely proud of her Kingman roots. She was born in the old Kingman hospital on May 26, 1923, to John S. and Hazel E. (Dunn) Mulligan. Raised in Kingman during the Great Depression, the family later relocated to California, often returning to visit.
In 1987, Hazel and her beloved husband, Chuck, returned to Kingman to retire. They enjoyed nine years together until Chuck's passing in 1996. Hazel remained very active in Kingman for more than 23 years. She had a lifelong concern for those in need and reached out through St. Mary's Church, St. Vincent DePaul, the Salvation Army, KAAP (Kingman Aid to Abused People), and on her own, to assist those who needed a helping hand.
Hazel loved life and lived it exuberantly! She filled the room with her laughter, her songs and stories and dancing (even with a walker). A wonderful cook, she enjoyed sharing her recipes with everyone she met and authored her own cookbook. She also wrote her family recollections of Kingman in a small booklet entitled, "Nothing But the Best: The Mulligan and Lynch Families of Kingman, Arizona" (2007).
Most important to her was her faith, her family and friends, her Irish heritage and her Kingman roots. Hazel volunteered for many years at the Mohave Museum of History and Arts and was a docent at the Bonelli House as well as providing walking tours of Old Downtown Kingman and its historical sites. In her book, she reflects on some of her memories:
"When I walk around downtown and see the buildings my grandfather built with his own hands, and the buildings my father designed, I remember it all: I hear the trains announcing their arrival with long shrill whistles echoing all over town. I see my father rushing across from the Brunswick Hotel to the station to meet the passengers; the circle of the mountains that surround the valley as far as the eye can see; the china-blue skies with billowing white clouds; the soft summer evenings; the warm nights with the full moon hung over the Hualapais; the miracle of the Colorado River winding its way through the red rock and barren places, bringing life to the desert. I hear my grandfather shouting as he chases the wild donkeys from his backyard, see my grandmother making her way down the alley pulling the laundry wagon behind her; the Kause home on the corner; Mary Beauchamp's boarding house, the Van Martyrs, the Devine family, the Grunnigers, Judge and Mrs. Krook, - all the people our family knew and worked with to help leave a legacy for Kingman - one they could be proud of. And I realize once more that this has been my inheritance, as it is my children's, and their children's. And I am proud - proud to have been a part of it."
Hazel is survived by daughter, Theresa Ehrsam (Mary) of Manlius, N.Y; daughter, Rhonda (Michael) Neimeyer of Riverside, Calif.; son, Michael (Christina) Ehrsam of Weymouth, Mass.; and daughter, Elizabeth Blomberg (Johnny) of Orangevale, Calif.; 11 grandchildren and 13 great-grandchildren.
She is predeceased by her parents, John S. and Hazel Dunn Mulligan; sister, Sarah J. Jaconi; brother, John T. Mulligan; and her husband of 51 years, Charles F. Ehrsam.
A Mass of Christian Burial was held on Friday, June 13, 2014, at St. Mel Catholic Church, Norco, Calif. Graveside services are at Mountain View Cemetery at 11:30 a.m. on Tuesday, June 17, 2014.
In lieu of flowers, donations may be made to St. Mary of the Mountains Catholic Church, St. Vincent DePaul, KAAP, or the Salvation Army. Hazel's entire family would especially like to express heartfelt gratitude to Heidi and Dan Bloomfield, their children, Heather, Mikey, and Melonie, and all of the Neimeyer family who gave Grandma such loving care during the last years of her life. We also wish to thank the staff of Vista Cove Senior Living Center, Corona, Calif., who were so kind and caring to "Miss Hazel" during the last year.
Hazel lived a long, happy, and meaningful life. Now God has welcomed her home. May she rest in peace - although we don't think it will be for very long! She'll see to it that there is something going on!
Mom, Grandma, you will live forever in our hearts.