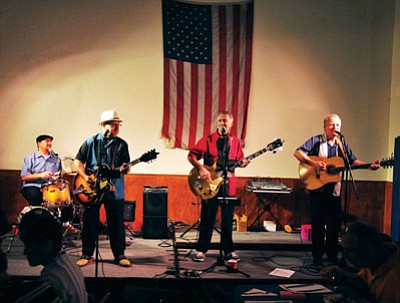 Originally Published: June 15, 2014 6 a.m.
KINGMAN - The Road Crew, an internationally known Nashville band that bills itself as the official musical ambassadors for Route 66, will be coming to Kingman this summer for two performances.
The rockabilly band, composed of musicians Don King, Woody Bomar, Joe Loesch and Jason Harmon, spends much of its time taking the history and stories of Route 66 to its audiences. The band received the first "Bobby Troup Artistic Recognition Award" from the International Route 66 Association in 2011.
"Most definitely, this is a big deal," said Jim Hinckley, local author and Mother Road expert. "These guys have a tremendous track record in the music industry and are a class act. And they've been the ambassadors for Route 66 for years. I'm really looking forward to them being here."
The challenge, said Hinckley, was actually getting the band to come to come to Kingman. Hinckley said no local funds were available to pay their fees or travel expenses, but a Route 66 aficionado in Portland, Ore., wanted them at the festival so much because of what they represented that he started a fundraising campaign on Fundrzr.com.
Rick Zimmer, who will ride his Harley-Davidson from Portland to Chicago before the festival and take Route 66 from Illinois to Kingman, said he called Loesch after Kingman was announced in August as the 2014 site of the festival. Loesch told Zimmer that because of the distance and previous engagements, the band would need to fly in and out but didn't have the funds to pay for it.
The fundraising effort brought in $3,000, enough to pay for the band's airfare and performance fees, from Mother Road fans throughout the world who want to hear them play. An anonymous donor contributed enough for The Road Crew's hotel bill during the time they are here. The band quickly agreed to attend the event, scheduled for Aug. 14-17.
"When the money came in like that, I knew the band would be here," said Zimmer, noting the band has played at three international festivals in the Midwest that were closer to Nashville. "I couldn't imagine going to Kingman without them performing. I'm very happy about it, and I'm the happiest because it was a grassroots effort that got them here."
King, who toured with his band Sawyer Brown, has enjoyed chart success as a country music artist with a half-dozen Top 20 nationally charted singles. The band has opened for the Oak Ridge Boys, Reba McEntire and Ernest Tubb. Bomar penned hits for Conway Twitty and Loretta Lynn, and had a 10-year string of hits, including 15 No. 1 country singles.
Loesch was the leader of the '70s pop group Solid Gold and had a Top 30 chart hit with "My Share of the Sidewalk," written by Michael Nesmith of the Monkees. The group opened for a number of popular musicians, including Willie Nelson and Paul Anka. Harmon formed a Christian rock group called Reign, playing Christian cover songs of bands Third Day and The Newsboys.
The Road Crew will sing about 15 songs during their performances, many they wrote about Route 66. Also, they will premiere a new song they penned that tells the story of Ron Jones, who lives in Bartlesville, Okla., and has decorated himself with at least 100 tattoos of colorful, iconic landmarks along the Mother Road. Loesch said it is the first time Jones will hear the song.
"My personal passion is Route 66 and I've been traveling it on road trips since I was a baby," said Loesch. "It's been a big part of my life and the band caught the bug from me. We spend a lot of our time educating people about Route 66 and encouraging them to travel it. We're always excited when we can get out and perform on Route 66 and see like-minded people. This is going to be fun."
Click for home delivery with comics, grocery deals, inserts, TV listings, coupons and more