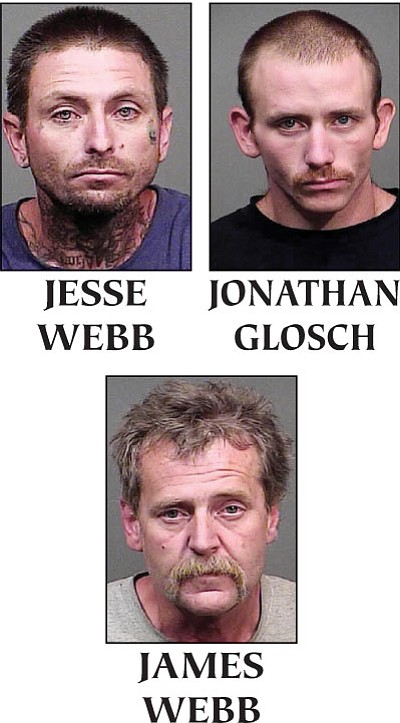 Originally Published: June 16, 2014 4:26 p.m.
GOLDEN VALLEY - Three men were arrested on a host of charges early Friday morning after Mohave County Sheriff's deputies investigated a burglary alarm at a home in the 6000 block of Joseph Drive at about 3:15 a.m.
Jesse Clayton Webb, 36, Jonathan William Glosch, 25, and 51-year-old James Patrick Webb were taken into custody after deputies responded to the home to find the home open and locks broken off of two sheds on the property.
The home, according to sheriff's office spokeswoman Trish Carter, was in disarray but nobody was inside. Deputies contacted the homeowner, who told them a widescreen television, jewelry, money and other items were taken.
Deputies picked up information that led them to a home in the 7000 block of Stewart Mountain Road, which is about half a mile from the alleged victim's home.
The men attempted to get into a car as deputies arrived. A record check showed each of them had warrants for their arrest and they were taken into custody without incident.
Jesse Webb's wallet was booked into evidence because it allegedly contained two of the homeowner's credit cards.
Jesse Webb was charged with burglary, a fugitive from justice warrant issued in Nevada, felonies, and a misdemeanor warrant for failure to pay fines issued by Kingman Justice Court.
Glosch was charged with felony burglary and a failure to appear misdemeanor warrant issued by Kingman Justice Court.
James Webb was arrested on a felony probation violation warrant issued by Mohave County Superior Court and a failure to pay fines misdemeanor warrant issued by Kingman Justice Court.
Deputies do not believe the elder Webb was involved in the burglary.