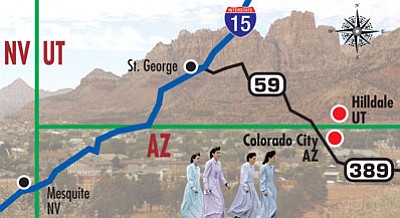 Originally Published: June 23, 2014 6 a.m.
KINGMAN - It's not the rule of law that governs Colorado City and Hildale, Utah - it's the rule of imprisoned sect leader Warren Jeffs.
Arizona Attorney General Tom Horne said as much last week in court papers filed in federal court - and he has a former Colorado City police chief to back him up.
Horne wants a judge to disband the Colorado City-Hildale marshal's office and appoint a federal monitor to oversee municipal services and functions.
Horne in court documents called for the Mohave County and Washington County, Utah, sheriffs' offices to take over law enforcement responsibility in the two communities. Horne also wants the judge to order the two communities to pay the respective agencies for those services.
Sheriff Tom Sheahan supports the move and has for quite some time.
"We've been trying to do this for years," he said. "They are a totally corrupt organization working under the FLDS elders."
FLDS is an acronym for the Fundamentalist Church of Jesus Christ of Latter-day Saints, a polygamous sect that splintered from the Latter-day Saints early in the last century, in part because the LDS ended the practice of polygamy.
The imprisoned Warren Jeffs, considered an FLDS prophet, allegedly still calls the shots from a Texas prison, where he was sentenced to a life term in 2011 after being found guilty of aggravated sexual assault of children.
Horne filed the court papers after Colorado City Police Chief Helaman Barlow admitted to authorities that marshals report to FLDS elders.
"They're nothing but security guards for the church," said Sheahan.
Residents of Colorado City who are not FLDS members have filed several lawsuits alleging civil rights violations.
Sheahan estimates about 70 percent of the 5,000 residents in Colorado City belong to the church - and the remaining 30 percent are subjected to systematic discrimination.
From Sheahan's perspective, the lawsuits are valid. Plaintiffs have prevailed in court and more are pending.
"We've had numerous occurrences due to the extra patrols we do thanks to a grant from the AG. We've seen firsthand what they do," said Sheahan.
"Say two people get in an accident and one is a member and one is a nonmember. They would always make the nonmember liable for the accident."
Barlow, who was given immunity in exchange for his help, said he secretly recorded conversations he had with the FBI and other law enforcement agencies and would pass on the recordings to Jeffs, who was on the run at the time and wanted in Arizona, Utah and Texas for raping or facilitating the rape of children.
Barlow also told investigators the marshal's office routinely ignores illegal marriages between the sect's adult male members and juvenile females.
Sheahan said the MCSO looks forward to taking over law enforcement in Colorado City, saying the residents - all of them - deserve professional service.
Currently, the MCSO gets $600,000 a year in state grants that allow for a sergeant and six deputies to patrol the area, but the cost would undoubtedly go up, perhaps by twice as much, if the MCSO is authorized to completely take over.
"We'd have to hire some more people," said Sheahan. "We'd need another sergeant and at least five more deputies."
If Colorado City refuses to pay, Sheahan said the state and federal governments could withhold shared revenues, which all cities rely on to function.
The MCSO would also take over the marshal's dispatch services if the federal judge goes along with Horne's request.
"There are a lot of logistical issues to handle, but the bottom line is, we need to do this. They do not get unbiased law enforcement," said Sheahan.
"It's their history. They incorporated in 1985. That's 30 years they've been corrupt."
Mohave County District 3 Supervisor Buster Johnson had high praise for the move.
"Attorney General Horne has been relentless in going after corrupt police departments and is adamant in his protection of women and children," said Johnson. "I applaud his action and all the hard efforts he has taken throughout the last four years assisting with the problems we have seen in Colorado City."
Johnson also commented on the success seen by the limited patrols the MCSO has conducted.
"We have been able to help girls escape who wouldn't have had the opportunity had the deputies not been there," he said.
Click for home delivery with comics, grocery deals, inserts, TV listings, coupons and more