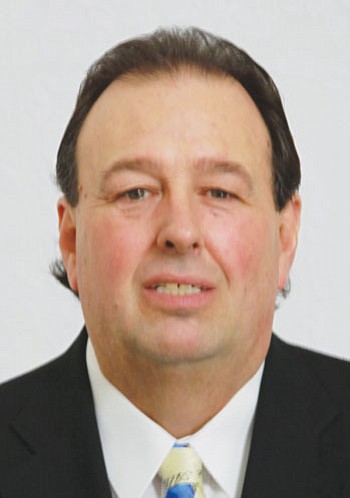 Originally Published: June 23, 2014 6 a.m.
KINGMAN - The two candidates who have filed for the Cerbat Precinct constable seat in the Nov. 4 general election will ask today to be temporarily appointed to the position.
The Mohave County Board of Supervisors will consider naming one of the candidates to the office at its 9:30 a.m. meeting in the Mohave County Administration Building, 700 W. Beale St. The candidates are Ray Cullison and Deborah Francis, two long-time Kingman residents.
"My previous experience has included performing my work professionally, tactfully and diligently," said Cullison in his letter of intent. "I believe a good work ethic, whether employed or volunteering, requires accomplishing my assigned tasks with determination and efficiency, and therefore, I ask humbly to be considered for the position of Cerbat Precinct constable."
Cullison has been a volunteer firefighter for the city of Kingman, was assistant ham radio coordinator for the Arizona Department of Homeland Security and ham radio coordinator for the Mohave County Health Department's emergency response team. He also ran for House District 3 in 2004, 2006 and 2010, losing each primary election. He is vice president of the Kingsmen of Route 66 Inc., and is a past president of the Kingman Lions Club. Cullison also has coached a variety of local youth sports teams.
Francis, a member of the Kingman Unified School District Board of Governors, has 21 years experience as a police officer, both with the Mohave County Sheriff's Office and the Pinal County Sheriff's Office, where she retired. She was an instructor for the U.S. Department of Justice's International Criminal Investigative Training Assistance Program in Pakistan. She currently is secretary and clerk for the Mohave County Board of Supervisors, and was a city clerk in Kingman before that.
"In the law enforcement profession, I have been trained to handle intense situations by de-escalating them and helping the public in any way I can," said Francis in her letter of intent. "I have a good work ethic, am highly motivated and I am able to work with little or no supervision. Given my extensive training and background, I believe I can help the citizens of Mohave County by providing the most accurate and professional service as the Cerbat Precinct constable."
The Cerbat Precinct constable seat became vacant this month when Jean Bishop resigned June 2 after being named to replace Supervisor Joy Brotherton, District 4, who died May 19 from a blood infection. Bishop's resignation will be accepted today by the board and she will take the oath of office for the supervisor seat at the meeting.
Click for home delivery with comics, grocery deals, inserts, TV listings, coupons and more