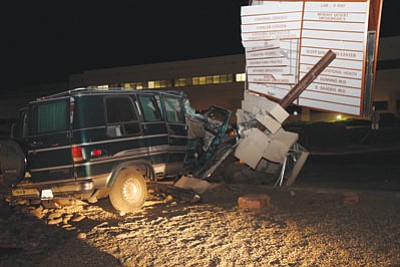 Originally Published: June 24, 2014 6 a.m.
KINGMAN - A 25-year-old Kingman man was killed early Monday morning after he crashed a van into a sign in the 1700 block of Beverley Avenue.
Richardo Lucero was pronounced dead at the scene.
Kingman Police officers believe a passenger was in the 1985 Chevrolet van. A blood trail was evident from the crash scene going toward Stockton Hill Road and the Interstate 40 overpass, according to Deputy Chief Rusty Cooper.
The accident occurred at about 12:40 a.m. when the van left the roadway and struck the sign, which Kingman Regional Medical Center owns. Lucero died from massive blunt force trauma, according to Cooper, and he believes the missing passenger is seriously injured.
Alcohol and excessive speed might have played a role in the crash, said Cooper.
The accident remains under investigation and anyone with information is asked to call Kingman Police at (928) 753-2191 or Silent Witness at (928) 753-1234, or report online at www.kingmanpolice.com.