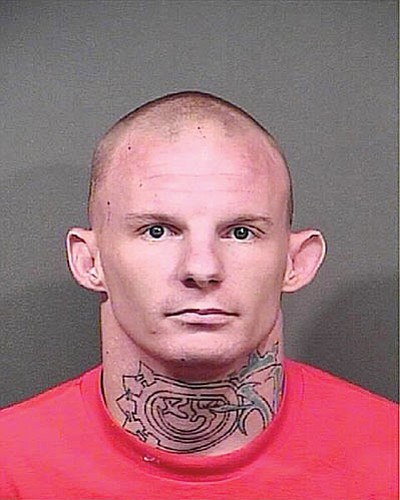 Originally Published: June 24, 2014 6 a.m.
KINGMAN - A Kingman man is in jail after allegedly beating up and choking his girlfriend because she didn't cook dinner fast enough, according to the Mohave County Sheriff's Office.
Dustin Eric Green, 27, was arrested at a home in the 2300 block of Lass Avenue after deputies responded to an assault report at Kingman Regional Medical Center.
The alleged victim, 22, told deputies Green split an eyebrow and threatened her with a rubber mallet before he allegedly choked her to the point she couldn't breathe.
"The victim said that Green, her boyfriend, became upset with her because she didn't cook dinner fast enough," said sheriff's office spokeswoman Trish Carter.
She was able to grab a knife and stab Green in the leg, and he responded by beating her in the back of the head, according to Carter.
Green was treated for the stab wound at KRMC and was taken into custody after the hospital released him.
Green reportedly told deputies he choked the woman in self-defense after she grabbed the knife.
He faces a felony charge of aggravated assault-impede breathing by domestic violence.
Green also had two misdemeanor warrants for his arrest, one for probation violation issued by Kingman Justice Court and failure to pay fines issued by Kingman Municipal Court.