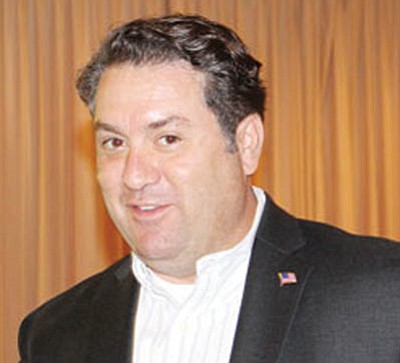 Originally Published: June 25, 2014 6 a.m.
KINGMAN - Arizona Attorney General candidate Mark Brnovich continued his aggressive campaign for the state's top law enforcement post on Monday when he visited the Kingman Republican Women's Club.
Brnovich has been to Kingman a few times since he announced last October that he would challenge incumbent Tom Horne in the Republican primary in August.
Brnovich is a lifelong Arizonan who earned a degree in political science from Arizona State University and his law degree from the University of San Diego School of Law.
He stepped down from his stewardship of the Arizona Department of Gaming - which regulates casinos on the state's reservations - to campaign.
Brnovich has toned down his criticism of the embattled Horne, who has legal and ethical problems heading into the election.
Brnovich is the only attorney general candidate who has worked as a prosecutor in both state and federal court.
He said he has prosecuted a wide range of defendants, from "16-year-old gang bangers to corrupt elected officials."
And while he has the legal background to qualify for the office, Brnovich, like many Arizonans, is wary of the federal government.
"Any government big enough to give you anything is also big enough to take it away," he said. The quote has been attributed to everyone from Thomas Jefferson to Ronald Reagan.
The former senior fellow at the conservative Goldwater Institute said he has fought what he calls the government's desire to take from one person to give to another.
"I've always been a big defender of property rights," he said. "The rule of law is important."
Brnovich said he was "very aggressive" going after illegal gambling in the state and his office shut down several card rooms.
He said he made a good living leading the gaming department, but he stepped down because he didn't like what was going on in Horne's office.
While in past speeches he has been highly critical of Horne's legal and ethical issues - he's been accused of using his employees to work on his campaigns on state time, for example - Brnovich on Monday simply said Horne's problems have "distracted" him to the point he can't do the job.
To bolster his argument, he cited the thousands of alleged child abuse cases that went uninvestigated, prompting a wholesale reconstruction of the former Child Protective Services, now known as Child Safety and Family Services.
"The AG represents state agencies," said Brnovich. "The lack of transparency was awful. CPS lawyers made it difficult to get information."
Brnovich, if elected, would also work with state and federal law enforcement to take on ultra-violent Mexican drug cartels, saying the widespread and indiscriminate killings in northern Mexico are primed to spill over the border.
Of course, no Republican candidate dare speak to potential constituents without mentioning his or her dislike of President Barack Obama.
He said the president rewrites federal laws as he sees fit and that state attorney generals should "band together against Obama."