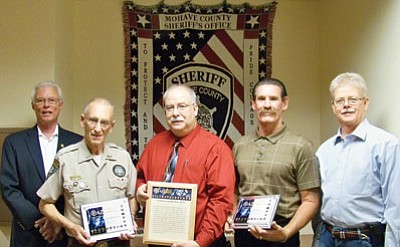 Originally Published: June 26, 2014 6 a.m.
KINGMAN - A Mohave County Sheriff's Office volunteer and a chaplain were honored at a recent meeting of the Arizona Detention Association.
Tom Henderson was named Volunteer of the Year as Outstanding Performance and Chaplain Mike Querio was named Chaplain of the Year.
"This is an extremely high honor to receive these awards, in addition to competing with 14 other sheriff's offices," said Sheriff Tom Sheahan.
"I attribute this to the dedication and perseverance of two outstanding volunteers and the professional management of the jail under Commander Don Bischoff."
Henderson, 87, has been a member of the sheriff's posse for more than 18 years.
Querio has volunteered at the jail for a dozen years and often ministers to inmates on days he's not scheduled to work.