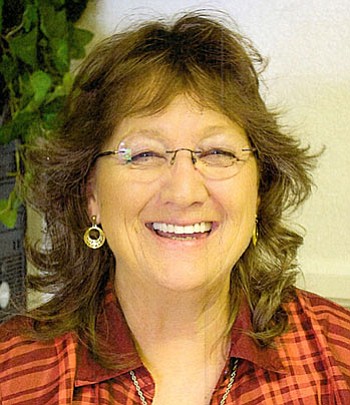 Originally Published: March 2, 2014 6 a.m.
Gail Robin Dike passed away at home on Feb. 14, 2014. Gail was born Feb. 1, 1949, and grew up a "military brat." Her father, Robert D. Sweet (1924-2002), was in the Navy and she lived all over the world, including two and a half years on Guam. When she was 12 her family settled in Monterey, Calif., where she graduated from Monterey High School in 1967.
Gail married the love of her life, Marvin Dike, in 1971. She worked in the consumer finance industry in Monterey and Salinas, Calif., until they moved to Kingman in 2000, where she worked in the mortgage industry.
She loved the town and made good friends with all people she worked with and many others she got to know in the town she thought of as beautiful. Gail quickly became involved in many organizations and charities, including Rotary and Kiwanis. She volunteered with the Air Show, was an affiliate director of the KGVAR, started the KGVAR realtor golf and was an ambassador for the Chamber of Commerce.
Gail was also a very talented artist, painting in both oils and acrylics. She enjoyed woodworking and creating pieces that she later painted. Gail loved her family and is survived by her husband, Marvin Dike; her mother, Beryl Sweet; her sisters, Judith Blaha, Melissa Nixon, Nancy Sweet; and many nieces and nephews.
Gail's smile, laughter, sparkling positive personality and love of life, family and friends will be extremely missed by all who were lucky enough to know her.
Donations can be made to one of the charities she worked with each year, Kiwanis Clothe a Child, P.O. Box 3993, Kingman, AZ 86402-3993.
Thoughts and condolences may be submitted to the family at www.lietz-frazefuneralhome.com. Arrangements were placed under the care of Lietz-Fraze Funeral Home and Crematory.