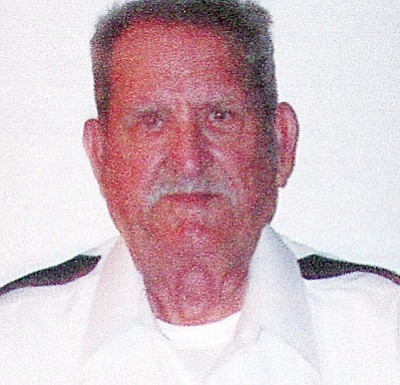 Originally Published: March 3, 2014 6:49 p.m.
Richard "Dick" Burrowbridge, 78, passed away on Feb. 12, 2014, in Kingman after spending a pleasant day outdoors with his best friend, Barbara Burrowbridge. Dick was born Nov. 3, 1935, in Madison, Wis., to Kenneth and Erma Burrowbridge.
Dick was a resident of Kingman for the past seven years, moving back from California to be closer to his brother, Bob. Previously, he was a resident of Bullhead City from 1980-1991.
Dick was a short-haul truck driver for most of his life for CTI and MNX. After he retired, he worked security at the Colorado Belle in Laughlin for three years. He also volunteered at the Bullhead Fire Department Station No. 1 and worked for the U.S. Forest Service in the Angles National Forest in California.
For the past seven years, he enjoyed bowling with his friends at Cerbat Lanes in the "Barb's Night Out" league. Dick was an avid woodworker and as a hobby, he built cabinets and furniture. He also enjoyed fishing from the pontoon boat with his brother, Bob, on Lake Mead, Lake Mohave and the Colorado River.
Dick served in the Army National Guard of the United States and the Army National Guard of California.
He was a very active volunteer at KRMC, where he drove the courtesy van on Friday mornings, and at the Kingman Police Department. Through volunteerism, he did so many great things for so many people.
Most recently, he was president of the Retired Teamsters Union in Kingman and a member of the Moose Lodge.
He is preceded in death by his parents, Kenneth and Erma Burrowbridge; brother, George Burrowbridge; first wife, Phyllis; and second wife, Carole.
Dick is survived by Barbara; brother, Robert (Tinkey) Burrowbridge of Kingman; nephew, Ronald (Louana) Burrowbridge of Kingman; daughters, Laurie Burrowbridge of Pueblo, Colo. and Linda (Mitch) of Lincoln, Neb.; stepdaughters, Yvonne Gardner of Sacramento, Calif., and Justina and husband David Manero of Alexandria, Va.; nieces, Marjorie (Jim) Miechowicz of Mesa, Connie Sigman of Wisconsin and Christie (John) Mills of Arrowbear, Calif.
Arrangements are under the direction of Desert Lawn Funeral Home and Memorial Gardens in Mohave Valley.
More like this story