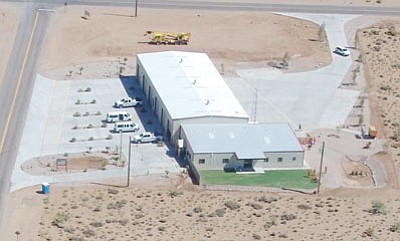 Originally Published: March 5, 2014 6 a.m.
GOLDEN VALLEY - The Golden Valley Fire District at a special meeting Monday approved the sale of a shuttered fire station and administrative offices to Mid Fifty F-100 Parts, a Golden Valley business.
The company, which sells parts and accessories for Fords made in the 1950s over the Internet, agreed to pay $200,000 for the two properties at 3311 and 3327 Meyer Road, according to Fire Chief Tom O'Donohue.
Both the former station and administrative offices are located next door to where Mid Fifty F-100 Parts currently does business.
Calls seeking comment from the company were not immediately returned.
O'Donohue said the district's current administrative office, a mobile home, will remain on the property and the district will pay rent to the new owner.
The first year, however, will be free after an agreement was reached to trade labor for rent. O'Donohue said the new owner wanted to make modifications to the buildings, work that was performed by inmates while the district still owned the property.
The trade was valued at $7,500, which is equal to one year's rent at $600 per month, said O'Donohue.
In other district news, directors formalized firefighters' pay structure after deciding they did not owe firefighters back pay.
"There was controversy over whether we owed back pay," said O'Donohue.
The issue dates back a matter of months and on Monday the district's attorney said the district did not violate policy and therefore did not owe any back pay.
"Could we have done it better? Yes," said
O'Donohue, "but we didn't violate policy."
However, O'Donohue said the attorney also advised directors that the district has no formal policy for step pay increases.
"It was kind of under the good old boy system," said O'Donohue. "If they liked you, you moved up. It they didn't, you didn't move up.
"I don't like things that give the appearance of unfairness."
To fix the problem, step increases were established based on the firefighter's hire date.
All new hires serve a one-year probationary period and after that they move up a step every two years for a total of eight steps.
O'Donohue said a wage scale has not been established yet, but the increases will be significant.
He said each step increase would be set at 6 percent, equal to a 3 percent raise each year.
They would max out after 16 years on the job, he said.
The chief also said the economy will play a key role on whether pay raises are provided.
"I anticipate some years they won't get raises," he said.
The district will hold its regular meeting of the month March 20, when O'Donohue's employment contract comes up for renewal.