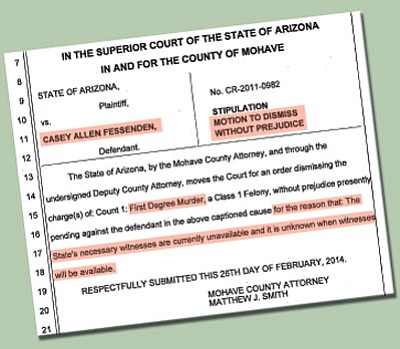 Originally Published: March 6, 2014 6 a.m.
KINGMAN - First-degree murder charges have or will be dismissed against two Kingman men accused in the 2010 execution-style killing of Christopher Gillespie.
The decision does not come as a surprise given the history of the case.
Since early 2012, the trials for Casey Fessenden and Norman Corley were continuously postponed due to several reasons, but most notably because of the health of a critical witness for the prosecution and other issues with witnesses.
Eventually, the delays violated the men's constitutional right to a speedy trial and they were released from custody late last year.
Chief Deputy County Attorney Jace Zack was succinct when he explained the status of both cases.
"The key witness at this point has severe medical issues and cannot travel or be deposed," said Zack. "This is the unfortunate and disappointing reality in this case. The law requires witness testimony and there is no way around that."
While Fessenden and Corley walk free today, there is a chance they could face a jury in the future.
Deputy County Attorney Kim Aune and Fessenden's attorney Brad Rideout signed court papers this week agreeing to dismiss the charge of first-degree murder "without prejudice," meaning prosecutors could re-file the case should the witness regain her health.
Judge Steven Conn is expected to sign a similar agreement this week regarding Corley, according to Zack.
Last month, at what was supposed to be Fessenden's final hearing before his trial was to begin in Conn's courtroom this past Monday, the state said the unnamed witness was in an out-of-state mental health facility. Her doctors said she was not able to travel or even to be interviewed under oath.
Rideout said he wanted to interview the witness and he also said he wanted a detailed synopsis of her health status to determine if her "veracity" could be questioned.
"I'm super happy with this result," said Rideout on Wednesday. "My client spent two years in jail and they had zero physical evidence against him."
Rideout said the state has had problems with a number of witnesses. He said one man recanted his story, saying he lied to detectives when he told them Fessenden confessed to the killing.
"We're both just ecstatic. After two long years, this is very satisfying," said the attorney. "My client might have been guilty of having bad friends, but he's not a killer."
While Rideout said there was no physical evidence tying Fessenden to the murder, the state has cited strong circumstantial evidence in bringing the case to trial.
Gillespie, 37, was shot four times on the night of April 12, 2010 in the desert outside of Kingman in what became known locally as the Black Bridge murder.
Gillespie never knew he was in trouble if things happened as detectives believe they did.
Fessenden, 40, according to detectives, was armed with an AR-15 rifle when he took up a sniper position and waited for Corley, 39, to bring Gillespie and Gillespie's girlfriend to the second bridge on Old Trails Road under the guise of looking for coins and bottles.
Detectives believe Corley deliberately left his truck's headlights on as he led Gillespie, a father of three, in front of them. Fessenden, they believe, fired three .223-caliber rounds into Gillespie's body. Corley allegedly shot him once afterwards with a .22-caliber handgun.
Gillespie's girlfriend was spared. She said nothing about the crime, reportedly out of fear for her life. Zack said the woman knew the former defendants and saw a portion of the events the night of the murder.
The case went nowhere until a person provided detectives with startling news more than a year later: The AR-15 used in the killing was inside a home at a trailer park on Route 66.
The man told detectives that Fessenden sold him the rifle 14 months earlier, on April 16, 2010, four days after Gillespie was killed.
Fessenden allegedly reported the rifle stolen the day after the murder.
According to detectives, testing the rifle, a bullet that was removed from Gillespie's body during his autopsy and a shell casing found at the murder scene indicated the AR-15 recovered at the home was the murder weapon.
Fessenden was arrested in August 2011 and Corley was captured two months later.
Detectives said the killing was financially motivated. Corley and Fessenden remained in the Mohave County jail until late last year, when they were released after repeated delays.
Rideout said he expects the Mohave County Attorney's Office to "take a public beating" over the dismissals, but he had nothing but praise for Aune and the office as a whole.
"I appreciate them more for doing what they did," he said. "There are a lot of county attorneys who aren't man enough to do that. They did the right thing and that isn't always easy."