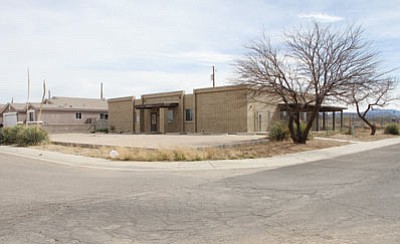 Originally Published: March 7, 2014 6 a.m.
KINGMAN - Mayor Janet Watson and the City Council on Tuesday granted a conditional use permit for a preschool and learning center on Lillie Avenue.
Joy Yurcina in her application said the facility would serve up to 24 students between the ages of 3 and 13.
The unanimous vote after the public hearing came with no debate as the building was built to serve as a daycare center and has operated as one in the past.
There was no neighborhood opposition to the plan and Yurcina said she expects to open for business in June after remodeling is completed.
In other news from Tuesday's meeting:
• Chronic absenteeism prompted the City Council to remove a member of the Parks and Recreation Commission. The woman has not attended a meeting in months.
In a related matter, the City Council in a unanimous vote appointed longtime resident Dorothy Brown and John Gillenwater to fill two vacancies on the Parks and Recreation Commission.
• A change order costing about $8,300 was approved for the Beverly Avenue sewer line extension project from North Fifth Street to Fairfax Avenue. Sewer manholes had to be modified and a realignment of the existing water line was made to meet state environmental quality requirements.
The increase brings the total project cost to about $152,000.
Funding comes from Community Development Block Grants.
• In another sewer matter, the Council passed a resolution that will allow the city to collect a total of about $28,000 from property owners on Ashfork Avenue who connect to a new sewer line the city installed within the next 20 years.
The city installed an eight-inch sewer main with a manhole and other elements along Ashfork north of Chloride Street to Pasadena Avenue.
Municipal Utilities regulations allow cities to collect "paybacks" in such instances.
Once collected, the money will go into the city's Wastewater Expansion Fund. Roughly 12 properties are affected.
• Sunbeam Place in the Shangri-La Estates subdivision in the area of Gordon Drive and Castle Rock Road went the way of the dinosaurs at Tuesday's meeting.
The street was named Sunbeam Place on the subdivision map that was recorded in 1961, but several city maps, including the city's official zoning map, list it as N. Apache Street.
According to city staff, Sunbeam Place aligns with Apache Street, which is located between Airway and Pasadena avenues south of Sunbeam Place.
No evidence exists that the street name was ever changed and Mohave County has it listed as Sunbeam Place.
However, because there are currently no homes or developments under way, the City Council officially changed the name to N. Apache Street.
• After doing no chip seal work in 2013 in order to save funds to do more in 2014, the City Council awarded a bid to Desert Construction to provide coated and uncoated material for this season's project slated to begin in May.
Desert Construction was the sole bidder and set their prices at $34 a ton for pre-coated material and $21 a ton for uncoated material.
• The Council postponed taking action on a proposed six-lot development at Fripps Ranch located on the south side of Southern Avenue and west of Central Street.
Developer George Fripps has tried to build homes on the roughly three-acre property for quite a while, but has run into opposition from neighbors who want to retain the character of the neighborhood.
Most of the issues have been resolved, but Fripps and his engineer want to put in a mountable curb and sidewalk, which the city engineer opposes. Fripps also wants to wait until home construction is completed because cement trucks crush the sidewalks, which adds to the cost when they have to be redone.
The City Council seemed to support Fripps' latest effort and expects to take action in the next two to four weeks as the curb question is worked out and the developer and staff negotiate a possible cash bond that would allow Fripps to delay installing curbs and sidewalks.
• The City Council proclaimed March Red Cross Month in Kingman.