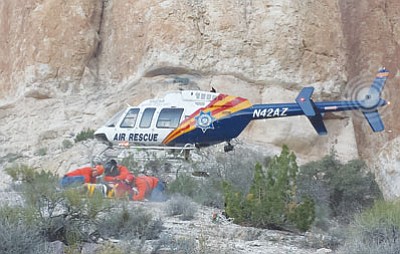 Originally Published: March 10, 2014 12:48 p.m.
GOLDEN VALLEY - A Kingman man rappelling in the Black Mountains sustained serious injuries Saturday when his climbing rope snapped and he fell about 50 feet.
Members of Mohave County Search and Rescue units and paramedics from the Golden Valley Fire Department helped rescue Robert Rodriguez, 21, who was rappelling down a cliff to a stream when his equipment failed.
Search and Rescue members and paramedics responded to the Dripping Springs area of the Black Mountains at about 4:30 p.m. and located Rodriguez at the base of a cliff.
A Department of Public Safety Air Ranger helicopter crew out of Flagstaff responded and took Rodriquez to Garnet and Navajo roads. From there, a Care-Flight crew took him to University Medical Center in Las Vegas.
Rodriguez suffered several compound fractures to his leg and hip, according to Mohave County Sheriff's Office spokeswoman Trish Carter.