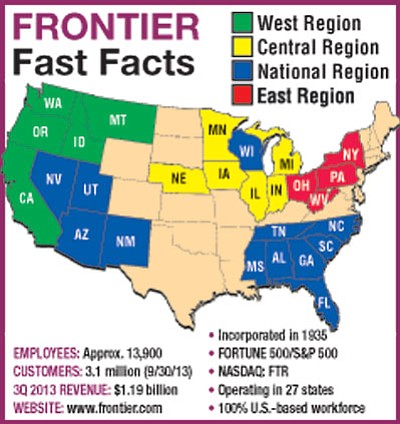 Originally Published: March 12, 2014 6 a.m.
KINGMAN - Maggie Wilderotter is the first to admit that in her eyes, size doesn't matter.
Wilderotter, chairwoman and chief executive officer of Frontier Communications since 2006, doesn't mind that most of the 30,000 communities her company serves in 27 states are small or rural.
"We think that if people live in Kingman, Bullhead City, Lake Havasu City or any of the small markets we service in Arizona, they should have the exact same telecommunication services they'd get if they lived in Las Vegas or Phoenix," said Wilderotter. "There should not be a difference. We want to make sure they have a good lifestyle, no matter where they decide to live."
Wilderotter was visiting Kingman this week as part of a regular schedule of visits in each of the communities served by the company. She met with the 156 Frontier employees in Mohave County during the morning, then spent the evening with local business and community leaders.
She also talked with local media about the company's future, its services and its growth in the area. Frontier, which has about 50,000 customers in Mohave County, of which about 20,000 are located in Kingman, discussed how the company plans to hold its own against local competitors such as Comcast, SuddenLink, DIRECTV and Dish Network.
Frontier is continuing to expand its broadband offerings, said Wilderotter, growing from about 45 percent of its customers having access to broadband three years ago to 88 percent now. And the amount of megabytes available has increased, with customers who traditionally got three to six megs in a basic Internet package able to purchase 12 to 20 megs now.
Last year, Frontier invested $11 million in broadband upgrades in Arizona alone, said Wilderotter. This year, it plans to funnel $650 million nationwide into more broadband upgrades. Wilderotter said Frontier would continue to invest heavily in its broadband market in the future.
"Broadband is really the future platform for all our products and services," said Wilderotter. "So your voice services will be Voice over IP, which is on the broadband network, and your video will be IPTV, which is streaming video online, and you're going to see a lot more innovation there, and then data services, from social media and email to texting.
"There's an insatiable appetite for using the IP networks that we have in place, and we're very excited about that."
Voice over Internet Protocol routes voice calls over IP networks and eliminates the need for separate networks for voice and data.
Because of local Frontier employees' interest in everything new, said Wilderotter, the company has looked to Mohave County as a site to test its new services, beginning with the creation of its first work-at-home group in 2006. Now, Frontier's total work-at-home force makes up the company's second largest call center.
Frontier also recently launched two new business products here that the company boasts are comparable to those in big cities. The first, called Frontier Anywhere, offers customized Voice over IP services, and the other, called Ethernet Virtual Private Line, provides customized bandwidth transport services to large entities, such as schools, hospitals and government.
In Mohave County, the company plans to offer broadband packages for people who visit seasonally and only need it for a short time, as well as for those on fixed incomes or who are casual users and only want to buy it for a day or a week. And gamers will be able to purchase tiered amounts of megabytes.
"We think customers should be able to buy what they want and not just what we want to sell them," said Wilderotter. "They should only have to pay for what they need and use. We're going to move toward application selling instead of technology selling, and that's a differentiator for us."
Frontier also is working on a new high-definition antenna technology for over-the-air broadcast, said Wilderotter. The company would package about 25 broadcast stations with Netflix and Video on Demand, route them through the small antenna to a Wifi Internet Protocol router installed in a house for broadband, and the stations, movies and videos could be viewed on any device. It would cost $9 to $12 a month, said Wilderotter.
"You won't have to pay $150 a month for television when you can buy a smaller package, which today you can't do," said Wilderotter. "We're innovating on the IP network in a different way to give a different level of service to our customers."