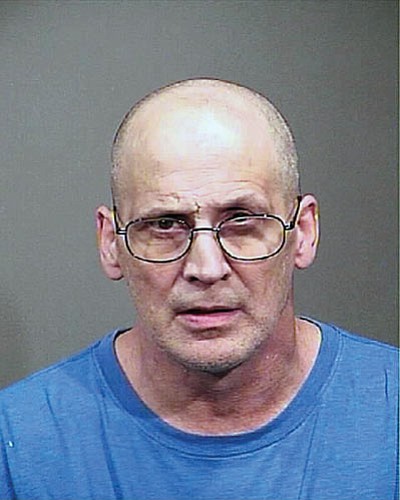 Originally Published: March 12, 2014 6 a.m.
KINGMAN - A man who allegedly killed the person he was supposed to be the caretaker for on Christmas Eve learned he must remain behind bars without bail until his trial, which has not been scheduled.
Charged with second-degree murder and abuse of a vulnerable adult, Robert John Adkins, 52, allegedly killed his roommate, Michael Sudkamp, 53, in the home the pair shared in the 900 block of Astor Avenue.
While Adkins told Kingman Police investigators that Sudkamp was prone to falling and often injured himself, police noted several alleged inconsistencies in Adkins' story that led them to believe he was responsible for Sudkamp's Dec. 24 death.
The Mohave County Medical Examiner ruled the death a homicide. Among several injuries that were deemed inconsistent with a fall were 27 rib fractures.
Sudkamp died moments before police were called and officers found his body in the bathroom. Adkins was the only other person home at the time.
Last week in court, it was suggested by Adkins' defense attorney that Sudkamp's injuries could have been caused by getting hit by a car at a low speed and accidentally pinned against a garage wall.
The prosecution, however, said there was evidence that suggests Adkins is prone to violent outbursts. The medical examiner in her report said Sudkamp had been subjected to previous beatings and that he was suffocated - two allegations the defense vehemently denies. Adkins has no prior criminal record to speak of in Arizona. He was cited for speeding in 2003 and attended driving classes.
Judge Steven Conn said he had doubts about the defense theory that Sudkamp, who was disabled, was pinned against a wall by a car and somehow managed to make it inside the home and into the bathroom before he died of his injuries.
Conn denied Adkins' request for a reasonable bail. Instead, the judge kept in place his previous no-bail hold on Adkins pending trial.
Adkins has denied any role in Sudkamp's death. His next court appearance is March 31.