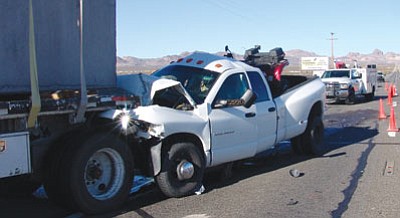 Originally Published: March 13, 2014 6:02 a.m.
The driver of a full-size Dodge pickup went to Kingman Regional Medical Center following a Wednesday wreck on Highway 68 in Golden Valley.
According to the Golden Valley Fire Department, the driver of the pickup was traveling at highway speed when he rear-ended a semi-trailer that was delivering supplies to a construction site next to a propane business.
Witnesses reported hearing a loud crash before seeing the pickup truck buried under the trailer.
The pickup's driver, a man in his 60s, left the vehicle by himself.
Firefighter Bryon Kimber noted that a quad in the bed of the truck slammed into the rear passenger compartment, so it was lucky no one was in the back seat.
The semi-trailer's driver was treated at the scene and declined transport to the hospital.
The highway was partially blocked for about two hours.