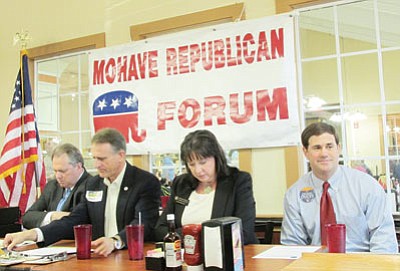 Originally Published: March 14, 2014 6 a.m.
KINGMAN - With better than two months left before the deadline to file for office arrives, more than a dozen Republican candidates and a lone Democrat already crowd the 2014 Arizona governor's race - the state's first open chief executive campaign in 12 years now that Gov. Jan Brewer has announced she will not seek another term.
Two Republican candidates were in Kingman Wednesday to speak to a standing-room-only audience at the Mohave Republican Forum.
Mesa Mayor Scott Smith and State Treasurer Doug Ducey are both Republicans who are relatively new to politics and who have successful backgrounds in the private sector.
Smith lived up to his reputation as a more traditional, pragmatic conservative, while Ducey's comments put him closer to the party's hard right wing.
Common Core
Sponsored by the National Governor's Association and the Council of Chief State School Officers, Common Core details what students need to know in language arts and mathematics when they reach the end of each K-12 school year.
The goal of Common Core is to establish consistent standards across the nation so that when a student graduates, he or she is competent to attend an institution of higher learning or join the workforce.
Ducey:
Ducey is opposed to the nationwide initiative, saying that 50 years of increasing Washington intervention in education has produced mediocrity.
"We (the U.S.) used to be so high at the top in education that nobody knew who was in second," he said.
Ducey said that if elected governor, Arizona would lead the nation in education, saying he knows how to measure performance.
"I want to fund schools, not districts," he said. Doing so would put the power at the principal's level.
Smith:
Smith supports Common Core, if not the initiative itself, at least the philosophy behind it, he said.
"Our children deserve the best education system in the world," he said. "We have to have high standards. We have to raise the bar."
Smith said standards not only have to be raised, students also must meet them and that means assessments are critical.
"We have to do it," he said. "We're below average. AIMS is an abject failure."
He was speaking of Arizona's Instrument to Measure Standards.
Smith said school districts must be able to "recruit, reward and retain" the best teachers.
Medicaid Expansion
Brewer expanded Medicaid against the wishes of some in her party last year, a move that did two things: It embraced a key provision in the highly controversial Affordable Care Act and it allowed 300,000 Arizonans to have access to health care who would have lost it had funding not been restored.
Smith:
Smith supported Brewer's decision to expand Medicaid, but not because he's a fan of President Barack Obama's signature health care legislation.
"Obamacare is a disaster," he said. "It's a bad program that will collapse under its own weight, but I supported Medicaid restoration."
Smith said the expansion met a federal mandate that states cover a certain number of people. He also said Brewer's decision gave the state a "two- or three-year respite" from what he said could be a future funding problem.
The decision also spared hospitals in places like Kingman, due to the amount of uncompensated medical care that is provided, he said.
"Sometimes you do what you don't want to do because it's best for Arizona," he said.
Ducey:
Ducey, the state treasurer, opposed Medicaid expansion on a fiscal level, saying Arizona had the largest structural deficit in the nation at the time.
"It's been hard to get where we are," he said. "We have $2 billion in total assets and we're growing faster than three years ago, but my concern is what happens in the (near future)?"
He said the deficit on a national level will "explode" in three years, leaving states to pay for Medicaid.
"We missed an opportunity for real reform," he said.
When you get in bed with the government, "sometimes you get more than a good night's sleep," he said, paraphrasing Ronald Reagan.
Immigration
Ducey:
No meaningful discussion on immigration reform can be held until the border is secure, said Ducey.
"The first job of government is to protect its citizens, and it failed," he said. "What did they do? They put up signs in the desert to tell us there are bad people out there. Border security is key."
Ducey said border governors - those in Arizona, Texas, New Mexico and California - should be outspoken.
"The system is broken," he said.
Smith:
"Mayors deal with all sides of immigration," he said. That means he speaks with business owners who can't survive without inexpensive laborers and foreigners who attend college on student visas and get a degree, only to be "kicked out" of the country after graduation because they can't get an extended work visa.
Still, he agrees the border "has to be fixed," but it shouldn't be as difficult as it seems.
"As governor, I can call people who build fences."
SB 1062
The bill if passed would have allowed businesses to refuse service based on religion.
While opponents claim the bill specifically focused on the LGBT community and ostensibly would have allowed anyone to legally discriminate, proponents said the bill restored religious freedoms provided for in the First Amendment.
Brewer vetoed SB 1062 after a national outcry. This is one issue on which the two agree, but for very different reasons.
Smith:
He was the first Republican candidate to come out against the bill, saying it was "overreaching and had huge unintended consequences."
Ducey:
Ducey said the bill would "kill the economy. I've taken some grief for that," he said.