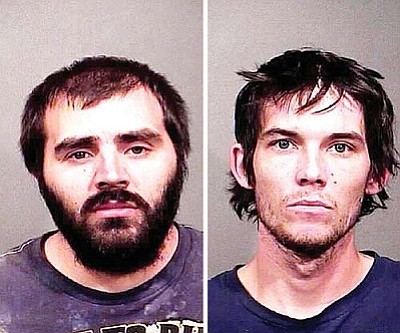 Originally Published: March 21, 2014 6 a.m.
KINGMAN - Tuesday was an especially bleak day on Ames Avenue after Mohave County Sheriff's deputies arrested two men in separate violent incidents.
Jose Guadalupe Gonzalez faces child abuse charges after allegedly slapping his stepson hard enough to leave cuts in his mouth.
Gonzalez, 31, was arrested after school officials informed a resource officer at Cerbat Elementary on Jagerson Avenue of a possible child abuse victim.
The 7-year-old boy reportedly told the officer that Gonzalez slapped him earlier that day at the family home in the 1200 block of Ames Avenue.
Gonzalez denied slapping the boy when Mohave County Sheriff's detectives arrested him at about 3 p.m. He was charged with felony child abuse by domestic violence.
A little more than six hours later and one block away, deputies responded to a report of a man beating a woman in the 1300 block of Ames Avenue at about 9:15 p.m.
As deputies approached, they reportedly spotted a vehicle matching the description of the alleged assailant's car.
Donald Lee Obanion III, 27, allegedly ran a stop sign when he turned onto Ty Street and was stopped.
Obanion reportedly told deputies he and his girlfriend argued and she left on foot.
A record check revealed Obanion was driving on a suspended license and he was taken into custody.
A search of his vehicle allegedly revealed several pills identified as narcotics, a glass pipe with drug residue and two syringes.
Deputies also discovered Obanion allegedly did not have permission to drive the vehicle he was in. The owner reportedly told police her daughter had her permission and that Obanion took the four-door sedan.
He was charged with felony theft of means of transportation, possession of narcotics, two counts of possession of drug paraphernalia and a misdemeanor count of driving on a suspended license.
Apparently, he was not charged with allegedly abusing the woman or cited for reportedly running a stop sign.