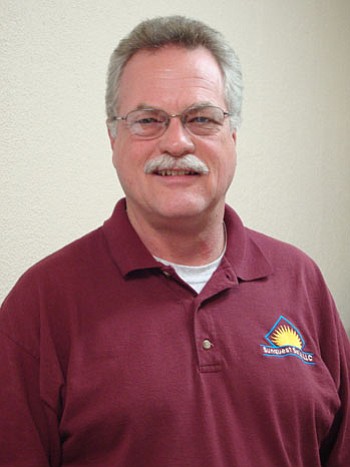 Originally Published: March 23, 2014 6 a.m.
Glenn Elvin Roehl, age 59, of Bullhead City, passed away unexpectedly on Sunday, March 16, 2014. Glenn was born in Cleveland on October 22, 1954.
His family moved to California in 1955 and he grew up in Ontario, Calif., graduating from Chaffey High School in 1972. At this same time Glenn was active in the Boy Scouts and earned the highest honor bestowed - Eagle Scout.
However, Glenn was not long for California as his heart and sights were set on the desert, where he loved water and jet skiing on the river and the freedom of the open space. He moved to Bullhead City in 1973.
Glenn was married to Becky Lynn Roehl (Shoemaker) on Sept. 9, 1991; they were married for 23 years. Glenn worked at Southern California Edison (SCE) in Mohave for 33 years, retiring in 2006 when the Mohave Generating Station in Laughlin, Nev., closed. Glenn was an instrument technician but also spent a good deal of his time helping his fellow team members as a UWUA Local 246 Union shop steward. He was also a lead on the Safety Committee. He was so well respected by the company that SCE asked Glenn to serve as one of their spokespeople in Washington, D.C., to help save the generating station.
Not ready to retire after the generating station was closed, Glenn decided to attend Mohave Community College where he earned his air conditioning and refrigeration certification. He went into the home building business while simultaneously continuing to supply power to people - moving from electrical to solar by starting his own solar installation company - Sunquest Solar.
Glenn was active in his community as a member of the Chamber of Commerce, as well as being involved in many non-profit organizations. Over the years, Glenn served on many local committees, including his most current position as a member of the Bullhead City Planning Commission.
Glenn is preceded in death by his parents, Glenn A. Roehl and Margaret E. Roehl. Glenn is survived by his wife, Becky and his son, Glenn K. Roehl, who is his business partner in the solar business. He is also survived by his sisters, Holly Roehl and Lorel Roehl; his brother, Garen Roehl; and their families and children.
A Celebration of Life will be held at 11 a.m. on Monday, April 14, 2014, at the Chamber of Commerce at 1251 Highway 95, Bullhead City, AZ., 86429. Arrangements for Glenn's Celebration of Life are being handled by Desert Lawn Funeral Home & Memorial Garden. Shorts and T-shirts are welcome.
In lieu of flowers, memorial donations may be given to Bullhead City Animal Control, 2270 Trane Road, Bullhead City, AZ 86442. The family of Glenn E. Roehl wants to thank you for your time and donations in his honor.
Visit our Obituary Guest Book at www.mohavedailynews.com