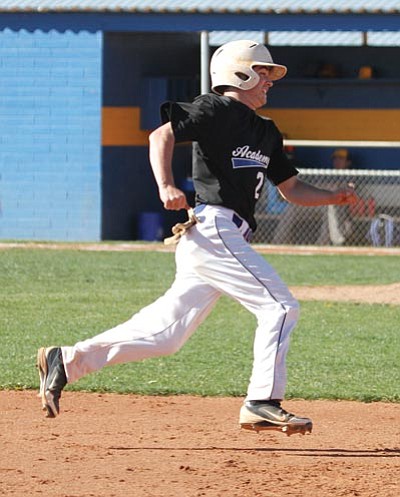 Originally Published: March 23, 2014 6 a.m.
KINGMAN - Estrella Foothills banged out 10 hits and the Kingman Academy High baseball team missed out on several opportunities and made too many mistakes as the Wolves handed the Tigers their first regular season and Section 2 loss Friday at Southside Park, 9-4.
"We got beat. We still are making mistakes defensively and mentally," said KAHS coach Bill McCord. "We're not disciplined at the plate, and they did their homework on us."
Kingman Academy (6-1, 1-1 S2) did lead early in the game. In the bottom of the first, Westin McCord led off with a single and advanced to second on an error by the Estrella Foothills (4-2, 1-1) second baseman. Austin Tomlinson advanced McCord to third on another Wolves' error, and then stole second. Tarik Skubal doubled in both to put the Tigers up 2-0.
After a solid first inning, Kingman Academy's Josh Allen got himself into trouble on the mound. He walked the first two Estrella batters to start the second. The third batter bounced one right back to Allen, but he overthrew Tigers' third baseman Quinn Garcia. That scored one and put runners at second and third. Allen loaded the bases with another walk before he surrendered a single that scored Estrella's second run.
Allen finally got the first out of the inning with a strikeout, and Estrella lost a run-scoring opportunity on a 2-6-2 play at home between Tigers' catcher McCord and shortstop Tomlinson. However, another Estrella base hit plated two and the Wolves led the rest of the way.
Kingman Academy had runners reach second with less than two outs in every inning but the sixth, but the Tigers couldn't sustain any rallies from the second inning through the seventh.
Estrella tacked on another three runs in the fifth, including a two-run blast over the left-field fence by Noah Critchfield off of Tomlinson. Kingman Academy came back with one in the bottom half of the inning.
Estrella slapped in two more in the top of the seventh to lead, 9-3. Kingman Academy added one in the bottom when Skubal singled in Tomlinson. Any thought of a rally ended when T.J. Pena grounded out into a game-ending double play.
McCord, Tomlinson, Skubal and Chy Banda each collected two hits for the Tigers.
Skubal drove in three runs, Tomlinson scored three runs and stole two bases.
Skubal pitched two innings in relief for the Tigers.
He faced the minimum six batters and struck out three.
"It doesn't have to be a bad thing," McCord said. "We just have to come out and work harder at practice, but now we know there are teams out there that can beat us."
Kingman Academy looks to limit notches in the loss column when they play Tonopah Valley (2-6, 1-1) in Section 2 at 3:45 p.m. Tuesday in Tonopah, before hosting Kingman (0-3) at 3:45 p.m. Wednesday at Southside Park.
The Bulldogs fell to Mingus on Friday, 11-0.
More like this story