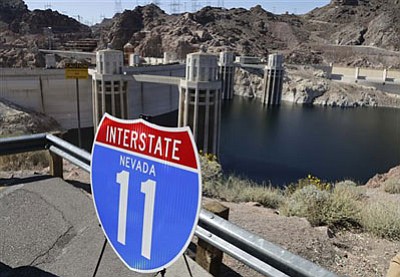 Originally Published: March 25, 2014 6 a.m.
KINGMAN - Arizona Gov. Jan Brewer and Nevada Gov. Brian Sandoval met Friday at the Hoover Dam to unveil signs that promote the future route of the Interstate 11.
A project Brewer has enthusiastically championed to connect Arizona to national and international trade partners, I-11 will serve as the main corridor for commerce and transportation between Mexico, Phoenix and Las Vegas.
"For Arizona to remain globally competitive, it is imperative that we continue to seek and develop opportunities like I-11," said Brewer. "In addition to serving as the first direct interstate through Phoenix and Las Vegas - and eventually the first Mexico-to-Canada corridor - this project will pay dividends in trade and tourism for our region and nation for generations to come.
"I thank Governor Sandoval and everyone involved in helping advance this crucial effort."
I-11 was designated by Congress in June 2012 as part of the federal transportation bill. The Departments of Transportation in Arizona and Nevada are in the final stages of their joint feasibility study, expected to be completed this year.
"I-11 will not happen overnight, and that is why we are demonstrating our strong support to bring make this critical project happen," added Brewer. "And I am proud to be the governor to drive it forward."