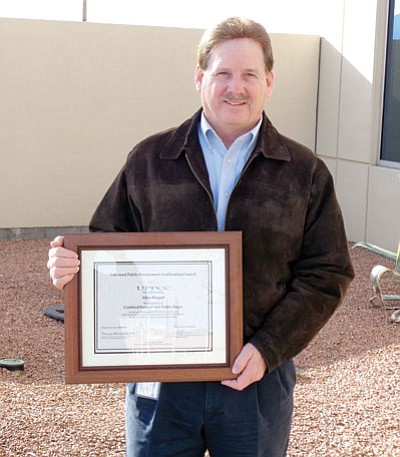 Originally Published: March 25, 2014 6:01 a.m.
KINGMAN - Mohave County Procurement Officer Allen "Tony" Burgett has received the Certified Professional Public Buyer credential from the Universal Public Procurement Certification Council.
Burgett was one of 249 professionals who successfully completed the examination in October. To become certified, candidates must demonstrate that they have the required formal education, procurement-related training, and public purchasing and management experience.
Burgett began working with the procurement department after retiring with more than 33 years of experience with the Western Municipal Water District in Riverside, Calif.
He is now responsible for ensuring financial accountability and promoting public trust in several county departments, including the Recorder's Office, Treasurer's Office, Health Department, Information Technology and the Public Fiduciary Department.
With his certification, the procurement department has met its goal of having its entire professional staff certified. Earning the certification is voluntary.
More like this story