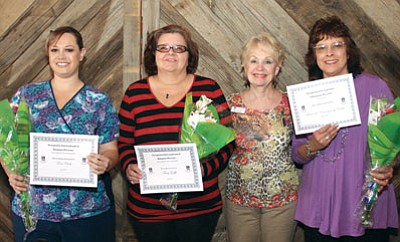 Originally Published: March 25, 2014 6:01 a.m.
KINGMAN - Two local women who continue to pursue their college degrees despite personal hardships received cash Women's Opportunity Awards Thursday.
Another woman was honored with a Ruby Award for making a "significant impact" in improving the lives of women in the community.
Terra Clark works full-time in the emergency room at Kingman Regional Medical Center. She is a licensed certified nursing assistant and is continuing her education in the Mohave Community College nursing program, all while supporting her 4-year-old daughter.
Terry Griffis works as an office manager at a local chiropractic office and is continuing her education to obtain certification in medical billing and coding. Griffis is the primary wage earner for her family.
Both women applied for and received grants to cover books, tuition and child care to help further their educations.
Terese Reaume, director of the Advice and Aid Pregnancy Center in Kingman, was recognized for her efforts in helping more than 3,000 local women to obtain pregnancy tests, ultrasounds, instruction in prenatal care and counseling services.