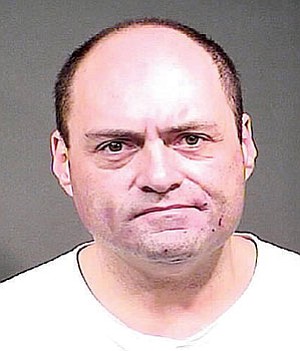 Originally Published: March 30, 2014 6 a.m.
KINGMAN - A Kingman man faces theft-related charges after he reportedly posed as a bail bondsmen and collected $325 from a woman for capturing a man he never found.
Edward Bruce Gould Jr., 49, of Kingman, was arrested Thursday on a felony charge of forgery following an investigation started by Mohave County Sheriff's detectives March 14.
A 78-year-old woman told detectives she paid Gould $325 in February after he told her he captured a man she hired him to find.
The woman had previously posted bail for the man, who was arrested last year on drug charges and failed to appear for court.
Gould allegedly took the check and provided the woman with a receipt both of them signed on Feb. 16, according to Mohave County Sheriff's Office spokeswoman Trish Carter.
Detectives located Gould at the Mohave County Probation Office on Beale Street and took him to the sheriff's office for an interview at about 11:15 a.m.
Gould reportedly told detectives he never located Davis and that the woman who hired him never paid him.
He reportedly denied the signature was his when detectives showed him the signed receipt, but detectives compared the signature to his driver's license and sex offender registration form and noted they were similar.
Gould was taken into custody without incident.
Click for home delivery with comics, grocery deals, inserts, TV listings, coupons and more