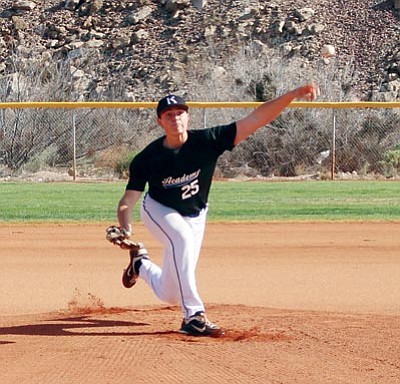 Originally Published: March 30, 2014 6 a.m.
KINGMAN - Westin McCord's 19-game hitting streak to start the season may have ended Friday against Wickenburg in a Section 2 game at Southside Park, but the catcher's defense made all the difference as the Kingman Academy High baseball team edged the Wranglers, 4-3.
McCord took a textbook throw from right fielder Bailey Rust on a sacrifice fly attempt in the fifth inning and put the tag on Wickenburg's Cade Jones to prevent a run.
"Bailey approached that ball nicely and had a nice and smooth transition," said Tim Pena, KAHS's assistant coach. "He made a great play right there. We've been harping on his approach, and he deserves kudos."
In Wickenburg's three-run sixth, McCord had to make like a first baseman to secure a force out at the plate that prevented the Wranglers from tying the game.
And it was McCord again to end the game. After Austin Tomlinson struck out Chris Ruiz for the second out, McCord gunned down baserunner Jordan Smart at first for the final out.
"The thing about Westin is that he's mentally preparing himself to play college ball, so he's stepping it up," Pena said.
McCord has signed to play with Miles Community College in Miles City, Mont., next season. The hitless game caused his batting average to drop to .521 on the season. He also has 28 stolen bases.
Tarik Skubal started for Kingman Academy (8-2, 3-1 S2) and got the win over Wickenburg (2-5, 0-2). He went six innings and struck out eight. He gave up three runs - one earned - on six hits and three walks. Tomlinson pitched the seventh and got the save for the Tigers. He struck out two.
Kingman Academy scored in the first when Tomlinson crossed the plate on a dropped third strike to Skubal. The Tigers added their second run in the third when McCord walked, stole second, advanced to third on Tomlinson's groundout to second and came home on a wild pitch with Skubal at the plate.
Cody Quick and Chy Banda scored for the Tigers in the fourth. Quick doubled in the inning and Banda was hit by a pitch.
Kingman Academy finished with just four hits. Tomlinson had two singles, and Banda singled in the second but was stranded.
Though the win improved the Tigers to 15-4-1 overall, the coaching staff is not pleased with how the team is going about its business.
"We're still not playing as a team," Pena said. "We're a little bit individualized, and that's why we're not playing well. We're just not mentally ready to hit. We've got to come together as a team."
The Tigers will try to do just that when they host Flagstaff at 3:45 p.m. Tuesday at Southside Park.