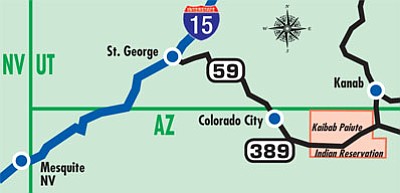 Originally Published: March 31, 2014 6 a.m.
KINGMAN - Once anthropologist Amy Kelly-McLaughlin determined the skeletal remains children found in the hills near Colorado City last November belonged to a prehistoric, Native American adult male who lived and died about 1,800 years ago, she began the lengthy and arduous process of determining to which tribe he belongs.
McLaughlin said she couldn't say what age the man was or how he died.
"The quintessential elements for determining age were in a very degraded state," said Kelly-McPhillips. She was able to verify he was a full-grown adult because all of his epiphyses - the rounded ends of long bones - were fused, something that doesn't occur until adulthood.
Mohave County is one of several entities that have a contract with Kelly-McLaughlin. She is currently studying two sets of prehistoric remains that were found in the county - studies that take a considerable amount of time to complete.
Prehistoric as defined in the world of anthropology is tricky. Essentially, it means history before written records were made in a given region. Remains less than two centuries old could be considered prehistoric if they belonged to a Native American in the West, she said.
Kelly-McLaughlin cannot describe what life might have been like for this particular man in Mohave County 18 centuries ago, because she doesn't know which tribe can claim the remains as its own.
From a weather and geographic perspective, the Arizona Strip would not have been much different 1,800 years ago than it is today, she said, but from a cultural perspective, life would have varied from tribe to tribe.
"I wasn't given any information on any neighboring archaeological sites," she said. "He could have been nomadic and, unfortunately, died as they were passing through and he was buried there."
The 120,000-acre Kaibab Reservation 50 miles north of the Grand Canyon is "very close," to the burial site, she said. Or, he could be Hopi, since they might have passed through the area, or a member of any tribe from southern Utah or northwestern Arizona, including the Hualapai.
In any event, Kelly-McLaughlin said the effort to repatriate the remains will be intense.
"It's going to take some time," she said. "My work on other repatriated remains has taken one to two years. I expect this to be about the same, hopefully closer to one year than two."
Kelly-McLaughlin must contact any and all Native American tribes that could have passed through the area at the same time the man was alive.
Kelly-McLaughlin is sensitive to the tribes and the remains she studies. She declined to provide a suitable photograph of the skeletal remains out of respect.
"I don't want to overstep," she said. "I don't know to whom he belongs. All tribes have certain customs regarding their dead and I don't want to offend anyone."
While Kelly-McLaughlin in her global career has studied human remains that are 5,000 years old and archaeological artifacts that are hundreds of thousands of years old, finding bones in the same age range as what kids and their mothers found near Colorado City four months ago is not rare, but neither is it common.
Once she verifies the bones are prehistoric - by looking for uniform staining in the bones and other clues - the hunt for his or her descendants begins.
"I'm very close to repatriating two sets of remains after 18 months of work," she said. "I get a real satisfaction in doing this for the tribes. I feel like it connects me to the earth."
Click for home delivery with comics, grocery deals, inserts, TV listings, coupons and more