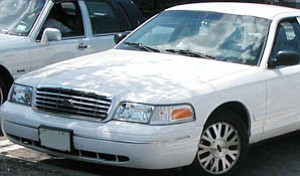 Originally Published: May 1, 2014 3:42 p.m.
KINGMAN - A police impersonator may be on the prowl, according to the Mohave County Sheriff's Office.
According to spokeswoman Trish Carter, a man wearing a blue-grey uniform and driving a white Crown Victoria with red and blue lights stopped a female motorist about 7:45 a.m. Tuesday in the Butler area.
The woman said she gave the purported officer the usual paperwork. The woman said the man looked at her driver's license, proof of insurance and registration, but did not run a records check.
He returned the documents to her and "told her to obey the laws and he left."
The man is described as a white male, about 6-feet, early- to mid-40s, with a muscular build and brown hair. He had a nameplate - it was either Ragen or Raglen - but he did not have a badge. The woman also said the man wore a gun belt sans holster and gun.
Carter advised motorists to "always make sure the officer has a visible badge showing."
Anyone with information regarding the bogus officer can contact the sheriff's office at (928) 753-0753 or Silent Witness at (928) 753-1234.